Content
Overview
How to check the WeSupply real-time shipping status in Shopify?
Use Cases
Overview
With so many different systems for managing your orders, it can be difficult to keep track of what's happening across the board.
Now you'll never have to worry about missing a critical shipping update on your Shopify orders again. We'll automatically send shipping status information to your Shopify account in real-time, so you'll always know where each package is at.
Even better, you may view the carrier's estimated delivery date or even the delivery date in addition to the package's current shipping status. This enables you to further automate processes using third-party applications such as gift cards, discount programs, and review apps. No need to waste time copying data between multiple apps or guessing at what's happening with your customers' deliveries.
How to check the WeSupply real-time shipping status in Shopify?
Go to your Shopify dashboard > Orders and click on the desired order. Next to each package, you can see the current shipping status.
As soon as you fulfill your orders using a valid, real tracking number, WeSupply is going to sync the tracking information and automatically log carrier shipping updates.
For example, as soon as a package is moving with the carrier to In Transit shipping status, you can see the status in Shopify. Additionally, you have access to the Estimated Delivery Date as well.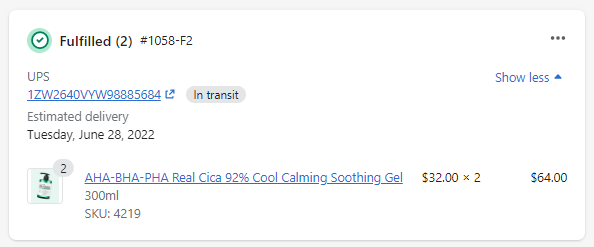 Moreover, if that package is already Delivered, you can also see the arrival date: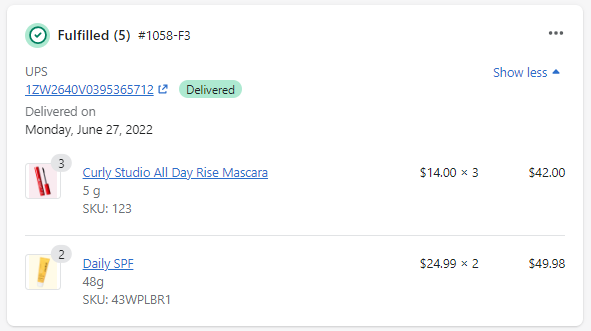 You can also manage orders in Shopify using order filters based on different shipping statuses (in transit, out for delivery, delivered, exception, etc).

Use Cases
Better order management and a clear view of each package's shipping status;
Sync the current shipping status of your packages to different systems;
Filter orders in Shopify by current shipping status;
Identify stalled shipments or shipment exceptions for proactive communication with the customer;
Use WeSupply fulfillment status for 3rd party integrations such as review apps, gift cards/store credit apps, marketing platforms, SMS marketing, etc.
For example: You can use the Delivered fulfillment event to trigger a specific email flow where the customer is asked to leave a review regarding their recent purchase from your store.