Content
You don't want your consumers returning products because they didn't meet your return policy guidelines, do you?
With Return Policy Enforcer, we'll ask them a simple ''YES''/"NO" question about their purchase before allowing them to return an item. This allows for an automated filtering process that keeps your staff in the loop with every single return.
If they answer "YES", then there may be something wrong with the product, its condition, or its original packaging - which means it needs further inspection by someone on your team before accepting the return. Your customer service team can manually review such return requests, having the possibility to reject or approve those depending on the circumstances. Or, you can send opened, worn products back to a different location, such as donation centers, outlets, repair, and recycling facilities, etc. The choice is yours - just select which option works best for your business needs!
Either way, Return Policy Enforcer will make sure only compliant returns are accepted while keeping non-compliant returns aside until inspected by one of your employees.
Step 1
Log into your WeSupply account and go to Settings > Return Methods -> Return Logics and Policies: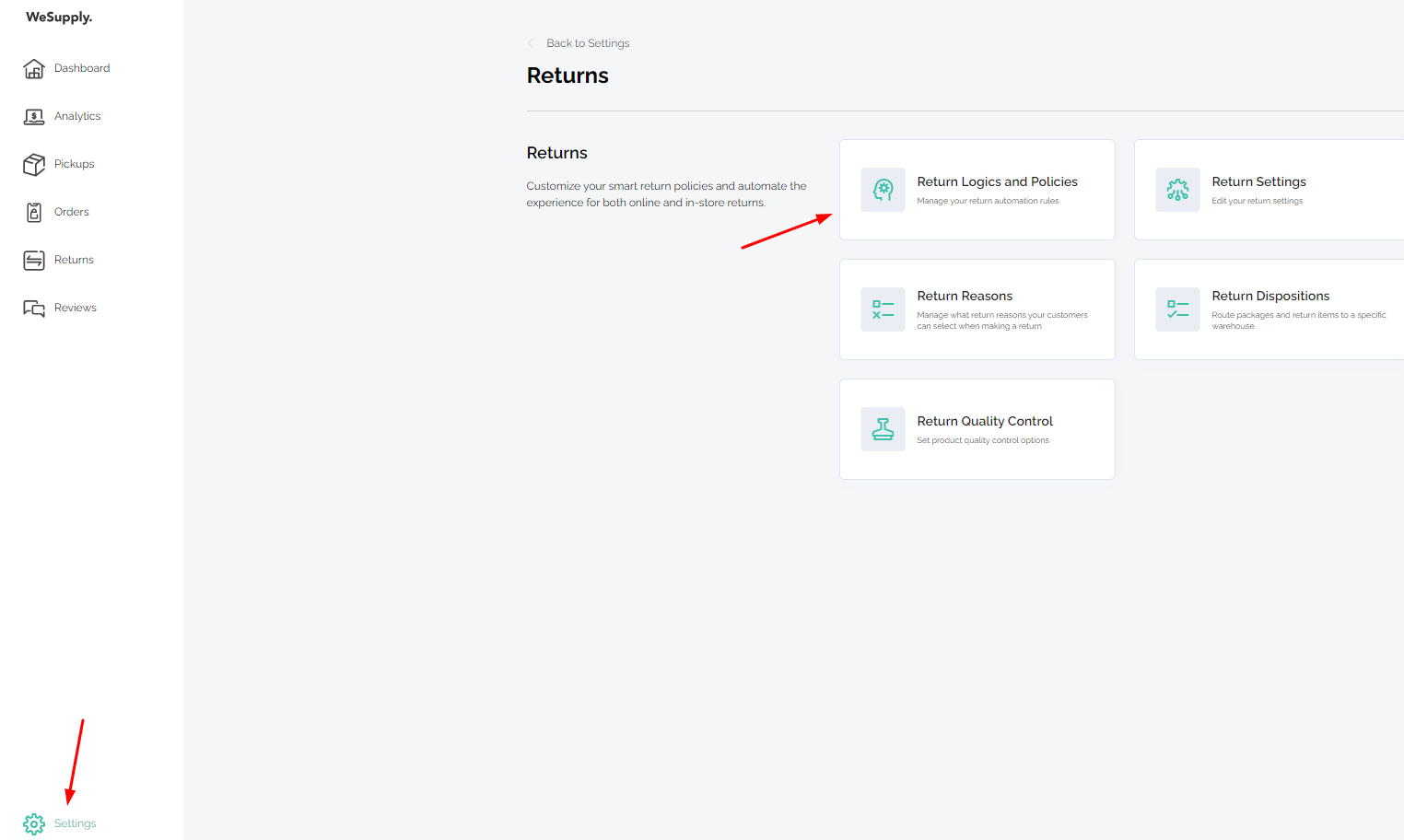 Step 2
Either create a new return logic or click Edit for editing an existing return rule:

Step 3
Customize your return logic and at the bottom of the page, you will notice the Policy Enforcer setting.
By default the setting is disabled. To enable the Policy Enforcer setting, toggle on the Enabled button: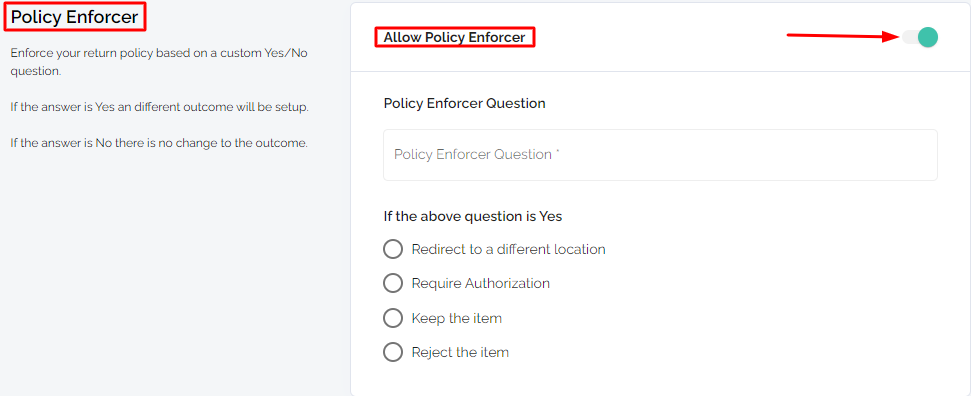 Step 4
Next, you'll be able to set up the Policy Enforcer Question, which is customizable depending on what you find to be relevant to your return policy.

If customers answer "NO", they will be able to submit the return request as usual through WeSupply.
If customers answer with "YES" to the policy enforcer question, their return requests can enter four automated states as explained below.
Step 5
Now, under Policy Enforcer Outcome, you'll be able to select the outcomes: Require Authorization, Redirect to a different location, Keep the Item, and Reject the Item.
a. Require Authorization
The returned request should be manually reviewed before the customer will be able to return the products. You can either approve or reject the return request.
b. Redirect to a different location
If your store has separate locations where used products should be returned, you can redirect those products to the desired return location rather than the default return location. You'll be able to select the specific location from the Policy Enforcer Redirect to Disposition dropdown menu based on the dispositions locations set up in your WeSupply Return Dispositions locations.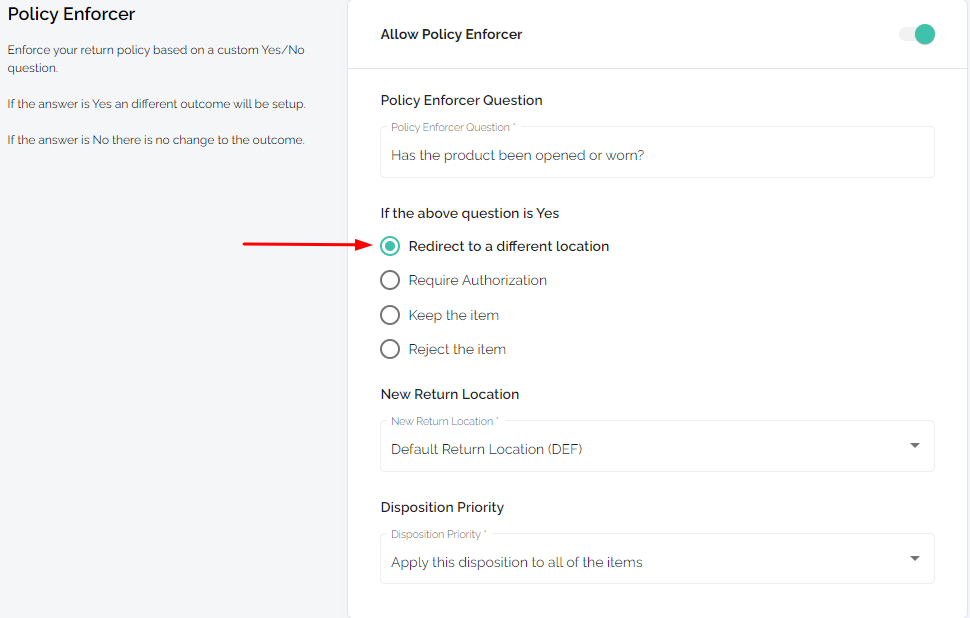 c. Keep the Item

The client does not have to return the item. This will be useful in cases when the return cost might be more expensive than the value of the product, so the customer can just keep it.

d. Reject the Item

Initiating a return will not be possible if you select this option. This can be best for cases when your return policy does not allow returns for specific cases, for example worn products.
Step 6
Click Save.

When you enable the Return Policy Enforcer in your WeSupply account, it is immediately applied to the front-end return experience.
Customers will be asked the custom policy enforcer question once they start a return request. They will be able to respond with ''Yes'' or ''No''. You can check out an example below:

Manually review return requests for opened, used/worn products;
Reject return requests if your return policy does not accept worn items to be returned for specific products;
Return worn products to a specific location such as outlets, donation centers, or specific warehouse;
Return opened kid toys to recycling facilities, and donation centers;
For hygienic reasons, specific products such as razors, toothbrushes, underwear, and sanitary goods that lack their hygiene safety seal, might not be qualified to be returned and are subject to your customer service's approval;
Manually review return requests for opened items and apply a specific restocking fee;
Return opened merchandise to specific warehouses where those can be cleaned for the purpose of resale.
Q: Do I need a paid plan in order to use the Return Policy Enforcer functionality?
Yes. Returns can be used with one of our paid plans.
Q: Can I target multiple product types under a return rule having policy enforcer activated?
Yes. There are no limitations in this regard. You can target as many products as you want under a return rule having policy enforcer enabled.
Q: Can I enable the Return Policy Enforcer for all of my return rules?
Yes. There are no limitations.
Q: Can I use different return conditions for rules with Return Policy Enforcer?
Yes! You can make use of the entire suite of return conditions as usual.
Q: Does the Return Policy Enforcer override the main return rule setup?
Yes. Each time a returned item falls under the return policy enforcer rule, the return request will behave correspondingly to the policy enforcer outcome:
a. Manually review the item to approve or reject the return request;
b. Return the item to a different return location.
Q: How does the Return Policy Enforcer is affecting customers on the front end?
Customers are not affected in any way. They will be simply asked the relevant question and will have to answer with either ''Yes'', or ''No''. They will not be welcome by any extra action, or messages and no extra email communications will be sent out.