Content
Customers often buy products online and then return them for a refund for various reasons: the product got damaged, they received the wrong product, or simply need an exchange.
The problem is that the money is returned to the original payment method (credit card). In most cases, it's more efficient to give the customer an instant coupon instead of returning the product or returning the money to the original payment method.
WeSupply allows you to issue instant coupons when customers choose returns so they can purchase another item from your store using their coupon credit.
Works best when exchanges are needed and instead of refunding the money to the original payment method (credit card), the customer can send the unwanted product back and purchase another one using the coupon credit issued.
You can also offer this feature as part of your customer loyalty program. This way your customers get what they want without any hassle from you, while still allowing them to save some money by using coupons on future purchases.
This makes you more competitive in case of exchanges or if you offer free shipping on returns, since this way your customer will not need to pay for shipping again when he purchases new products after returning his old ones.
Customers love having options on how they spend their money, so give them what they want! 😊
Instant coupon credit benefits:
👉 Decrease losing revenue to returns & turn them into exchanges;
👉 Flexible & customer-friendly refunds;
👉 Easy-way to solve exchanges;
👉 Boost long-term customer retention;
👉 Encourage repeat customers;
👉 Inspire brand loyalty.
Note: For Magento users, please take note that this functionality is available starting with version 1.10.20 of the WeSupply extension. Make sure that you're running at least this version on your store. Also, make sure your system allows for coupon credit.
Step 1
Log into your WeSupply account and go to Settings -> Return Methods -> Return Settings: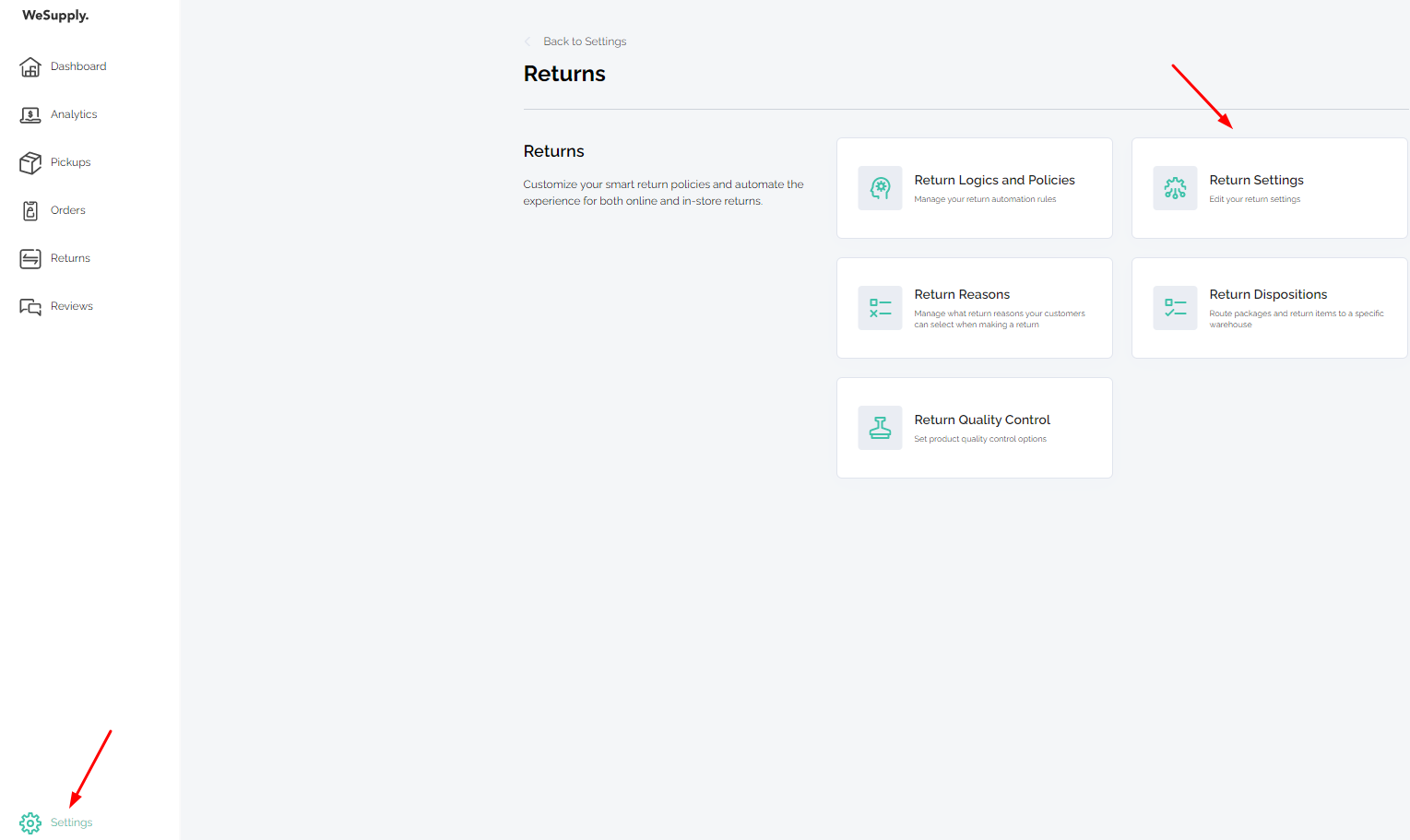 Step 2
Scroll down to the Instant Credit Processor section -> select the processor (e.g. Magento) -> click Save.
This allows us to generate instant credit through your processor.

Step 3
Go to Settings -> Return Methods -> Return Logics and Policies -> Create a new return logic or edit an existing one.

Step 4
Scroll down to the Instant Credit section and enable it by toggling on the button.



Step 5
Choose the method the coupon`s credit value will be calculated. You can opt between 3 options:
a. Do not offer additional bonus credit -> The value of the refund will be credited as a coupon credit, without any additional bonuses.




b. Flat bonus credit amount -> The amount selected as extra credit will be added to the value of the refund.




c. Percentage of the return value -> Enter the percentage of the return value to be credited as a bonus amount. If this option is selected, a new dropdown will appear where you can choose to select a Maximum Bonus amount.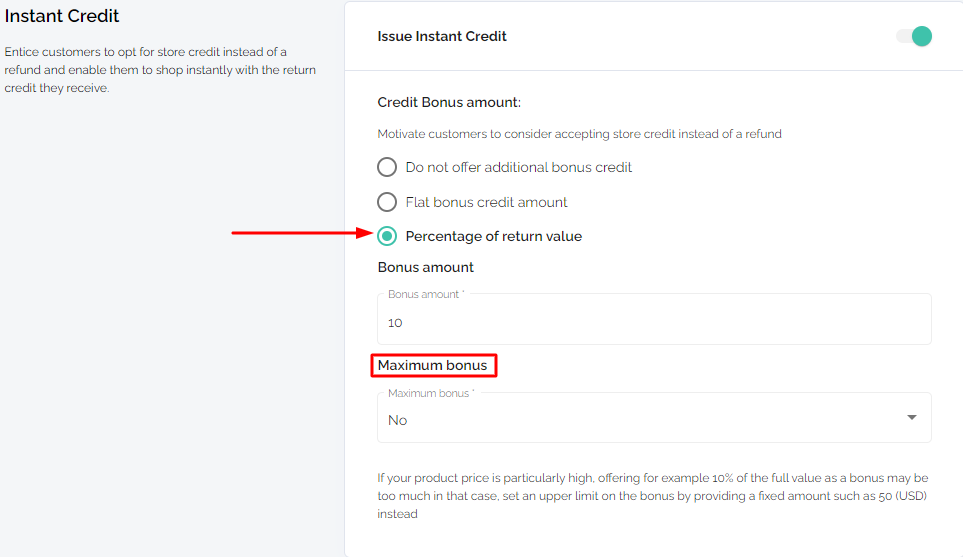 - If the Maximum Bonus is selected, then you will be able to insert the maximum value that can be granted as extra credit, despite it not matching the percentage set above.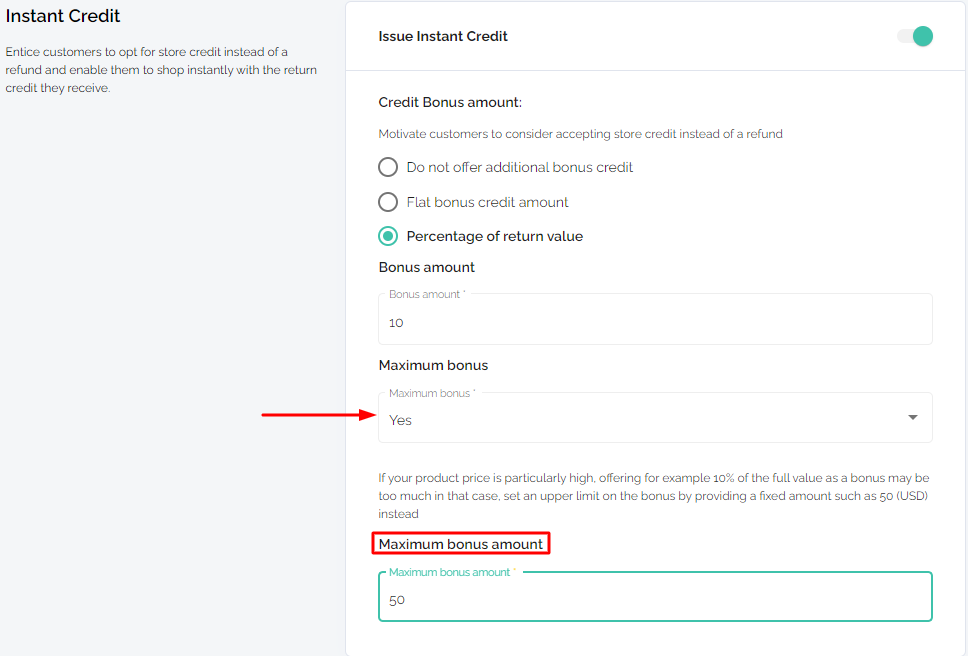 Step 6
Save your logic.
WeSupply lets customers receive an instant coupon credit after returning products when the return request is submitted and through the email notification received.
When customers initiate returns, before submitting their requests, they are asked how they would like to get refunded: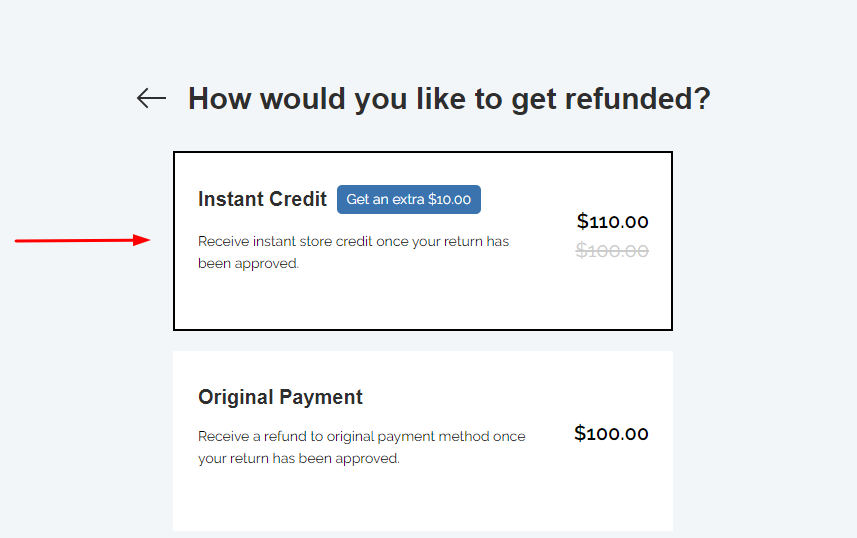 Once the coupon credit refund option is selected, and the return request is submitted, on the return confirmation page the customer receives the coupon credit code that can be used for future purchases on your website: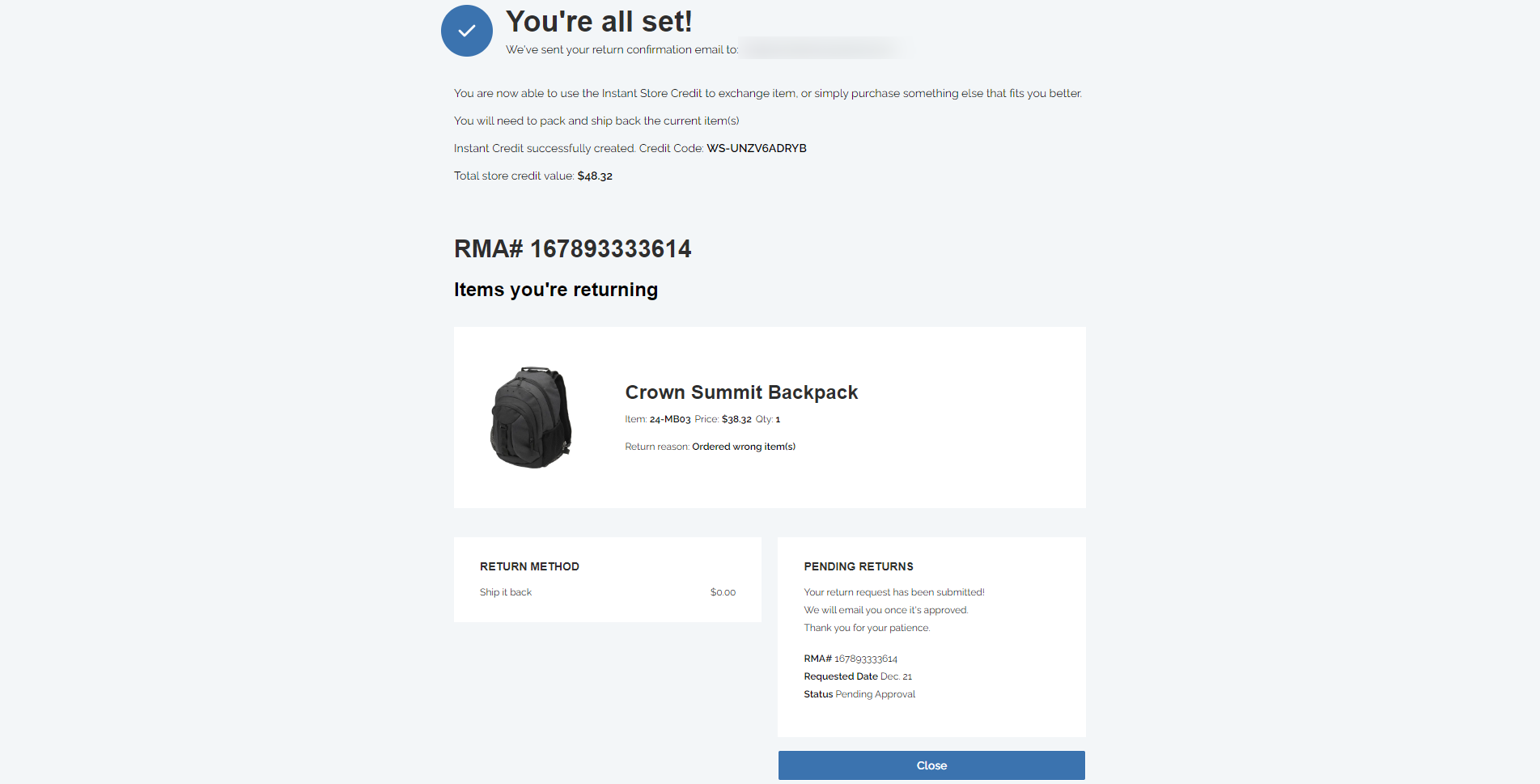 The same coupon code is communicated via the email notification that confirms the return request.