Content
Shipping is hard, but it's even harder when you have to deal with customers who are upset because they don't know where their package is.
You may have a few late shipments that you don't realize until they're already overdue. And then there's the problem of tracking updates not going through for some reason, leaving you wondering if the package was delivered or not.
Understanding the status of your shipments is an important part of managing a successful business. This can be especially challenging when dealing with multiple carriers, delays, stalled shipments, split-shipments.
The WeSupply Shipment Management Dashboard solves this problem by providing a comprehensive view of all your shipments in one place:
👉Unfulfilled Orders
👉Multi-Shipments Visibility
👉Shipment Exceptions
👉No First Scan Packages
👉No Movement
👉Revised Late EDD
👉Reported Lost Package
👉Delivery Attempted
👉Return to Sender
It gives you visibility into exactly what's happening with each order at any given time. This includes seeing how long ago the last tracking update was received and whether we've seen any other shipping status changes in recent days.
If something looks wrong, we'll let you know right away so that no customer goes without their product(s).
You have full visibility into your entire order fulfillment process so you know exactly when each package will arrive at its destination, no matter what carrier it uses. This allows you to optimize your operations by ensuring all packages are shipped out on time, every time!
Shipment Management filters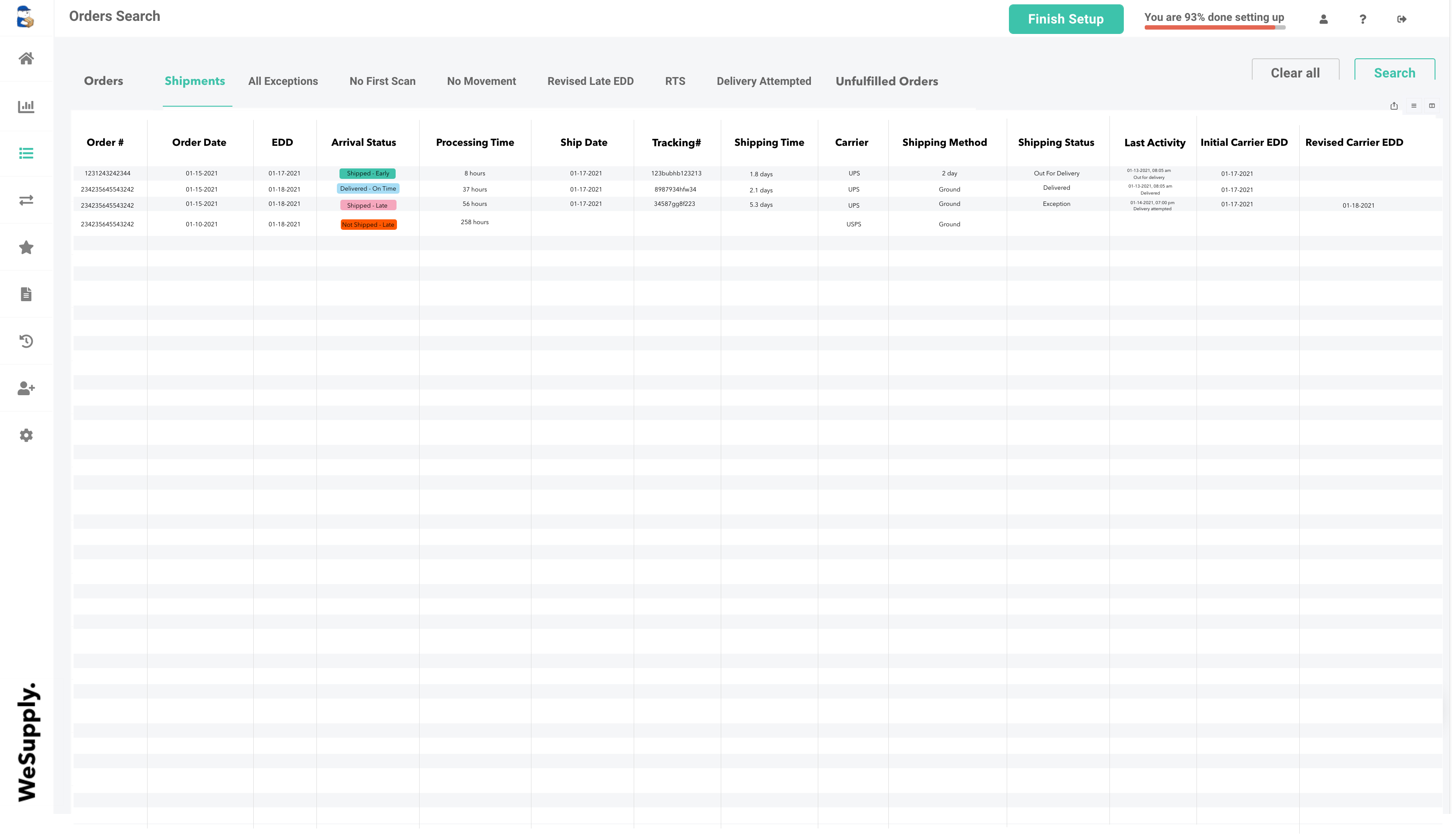 This offers you a full overview of all orders that sync to WeSupply. You can easily filter orders by an order number, customer billing and shipping name, customer email, date range, order status, item status, or shipping status.
Companies that are unable to provide immediate order status updates interfere with their customer's ability to satisfy their own informational requirements, which may lead a customer to seek out a more responsive supplier.
You can now track all unfulfilled orders in real-time. The software gives you instant access so you can see exactly how long your customers are waiting for their orders to be fulfilled before those become problems. This helps support staff address these issues faster than ever before while also ensuring that no one falls behind on important deadlines due to missing information.
When you have hundreds or even thousands of shipments to sort through, it can be difficult to find the ones you're looking for.
This filter dashboard tool helps you filter out all your shipments by order number, order date range, processing time, shipping date range, tracking number, shipping time, carrier, shipping method, and shipping status so that finding what you need is a breeze.
When your customers order online, they expect their orders to arrive when you promise them. If it doesn't happen, they will be upset and may not come back again.
Unfortunately, there are times when an order is impacted by a carrier exception. This means that the package was delayed because of circumstances outside of anyone's control (weather or traffic accidents). It can also mean that the delivery address is incorrect or incomplete. These problems are out of everyone's hands at this point in time but don't worry! We have solutions for both situations!
WeSupply automatically notifies customers about delivery exceptions once the carrier updates the status of the package in the Exception status, and you can also filter all delivery exceptions and send custom messages to your customers.
Don't let a bad experience keep potential clients away from your business - fix it before it happens!
The longer your packages sit in pre-shipment, the more likely they are to get returned or damaged.
You can't afford to have packages stuck in a pre-transit status for days on end. Your customers will be unhappy and you'll lose money if their orders aren't fulfilled quickly enough.
Use the No First Scan column to sort through all of your pre-shipment that haven't left your warehouse yet and were not scanned by the carrier.
Then, for example, identify which ones were placed by a customer within the last 7 days (or whichever time period makes sense for you). This allows you to further work with carriers and warehouses to ensure these orders are picked up as soon as possible so they don't fall behind schedule!
There's a lot of data out there, but it's hard to know what you can and should do with it.
We all know that the faster we ship orders, the happier our customers are going to be. But sometimes things get delayed for whatever reason - whether because of an internal error or external event like bad weather. And when your customer doesn't receive their order on time, they're not happy about it! It's important to let them know how long their package has been in transit so they have some context for why they haven't received it yet. You want to reach out quickly if you see something is wrong so that you can fix the situation before your customer gets upset with you.
Using the No Movement filter you can easily identify stalled shipments and figure out which orders are most likely late based on where they were shipped from and when, as well as for how many days the shipment has not been moved.
When the carrier fails to meet their estimated delivery date - they are not held accountable for it!
This leaves you in an awkward position of trying to explain why the order is late when there was nothing wrong with your side of things. It's frustrating because all you want is clarity about when an item will arrive so that you can better serve your customers.
We help retailers monitor shipping status and provide accurate ETAs at every step along the way by integrating with all major carriers including FedEx, UPS & USPS. Our platform allows us to monitor all delays and deliveries that were rescheduled for you to have better visibility on initial estimated delivery dates compared to the final one.
We all know that getting a package stolen or misplaced can be frustrating. It's also very costly to do business if customers aren't able to receive products they've ordered from your company because of delivery issues.
You can easily solve this problem by using the WeSupply service that allows your customers to report lost packages so you could contact carriers for further investigation and take necessary actions if needed. Easily filter all packages that were reported as lost and make sure you take the right action so no one will miss out on deliveries again!
Save yourself from dealing with angry customers who don't receive their ordered items on time or at all! With WeSupply, you'll be able to keep track of your shipments every step along the way - from pickup through last-mile delivery confirmation and post-delivery.
Every day, thousands of packages are lost or returned to the sender. This can be very costly for e-commerce companies and the brand's reputation.
A lot of businesses do not have a system in place that allows them to track these returns and failures on an ongoing basis. This leads to increased costs (both financially, as well as time), customer dissatisfaction, and missed opportunities for growth.
Filtering shipments by delivery failed attempts helps you keep track of your failed deliveries so you know which ones need more attention from your team - whether it's additional research into the cause of the failure or improving logistics with better packaging design or carrier selection.
You can also use this data to inform future marketing efforts by understanding what areas may require extra targeting/promotions/etc., based on how many packages were sent there but never delivered successfully.
An easy-to-use filter of all products that are returned to the original sender.