Contents
You are a business owner and you want to ensure that your customers are happy with their purchases. But, what happens when packages are lost? This is the most common problem among e-commerce sellers. It's a nightmare to deal with lost packages during the holiday season, especially when they are already late and you need them fast.
We all know that getting a package stolen or misplaced can be frustrating. It's also very costly to do business if customers aren't able to receive products they've ordered from your company because of delivery issues.
It is estimated that the holiday season will see more than 1 billion packages shipped by major carriers like FedEx, UPS, USPS, and DHL. This means there are likely to be significant delays in delivery times during this busy time of year and the number of stolen packages can be a real boom.
You can easily solve this problem by using the WeSupply service that allows your customers to report lost packages so you could contact carriers for further investigation and take necessary actions if needed. Easily manage customer expectations during the holidays when deliveries tend to get backed up due to increased volume.
Save yourself from dealing with angry customers who don't receive their ordered items on time or at all! With WeSupply, you'll be able to keep track of your shipments every step along the way - from pickup through last-mile delivery confirmation and post-delivery. This way, no one will miss out on deliveries again!
Step 1
Log in to your WeSupply account and go to Settings -> Branding -> Configuration -> Scroll down to the Report Lost Package section: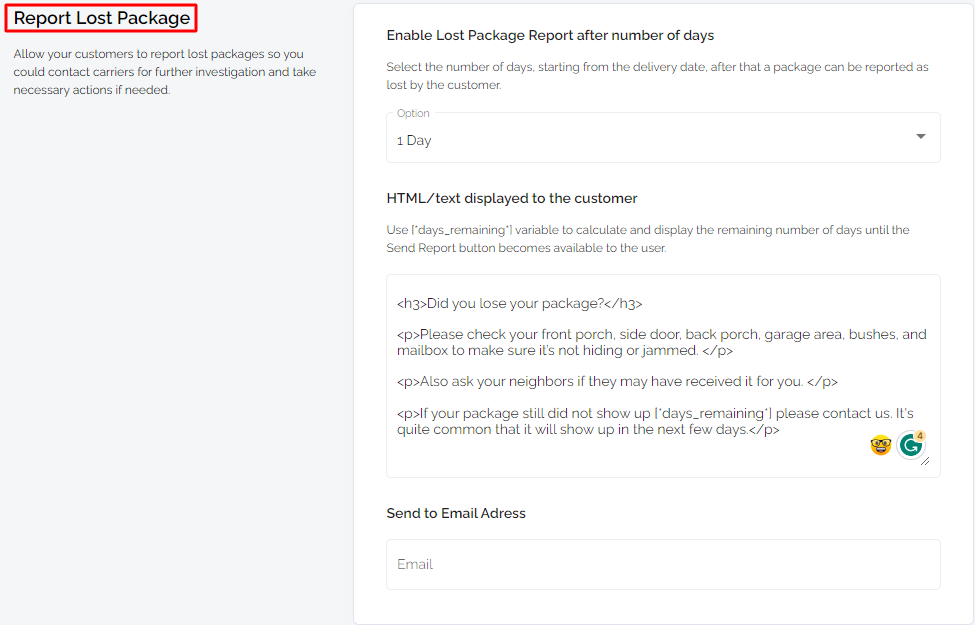 Step 2
From the Enable Lost Package Report after number of days dropdown, select the number of days, starting from the delivery date, after that a package can be reported as lost by the customer.
Step 3
In the HTML/text displayed to the customer box, you can customize the message displayed on the frontend for your customers at your own preferences.
Note: Use [*days_remaining*] variable to calculate and display the remaining number of days until the Send Report button becomes available for the customer.

Step 5
In the Send to Email Address field, add the email address where lost package reports can be received.

Step 6
After setting up everything, click Save.
On the Tracking Page, customers are able to report a package that shows as delivered but was not received.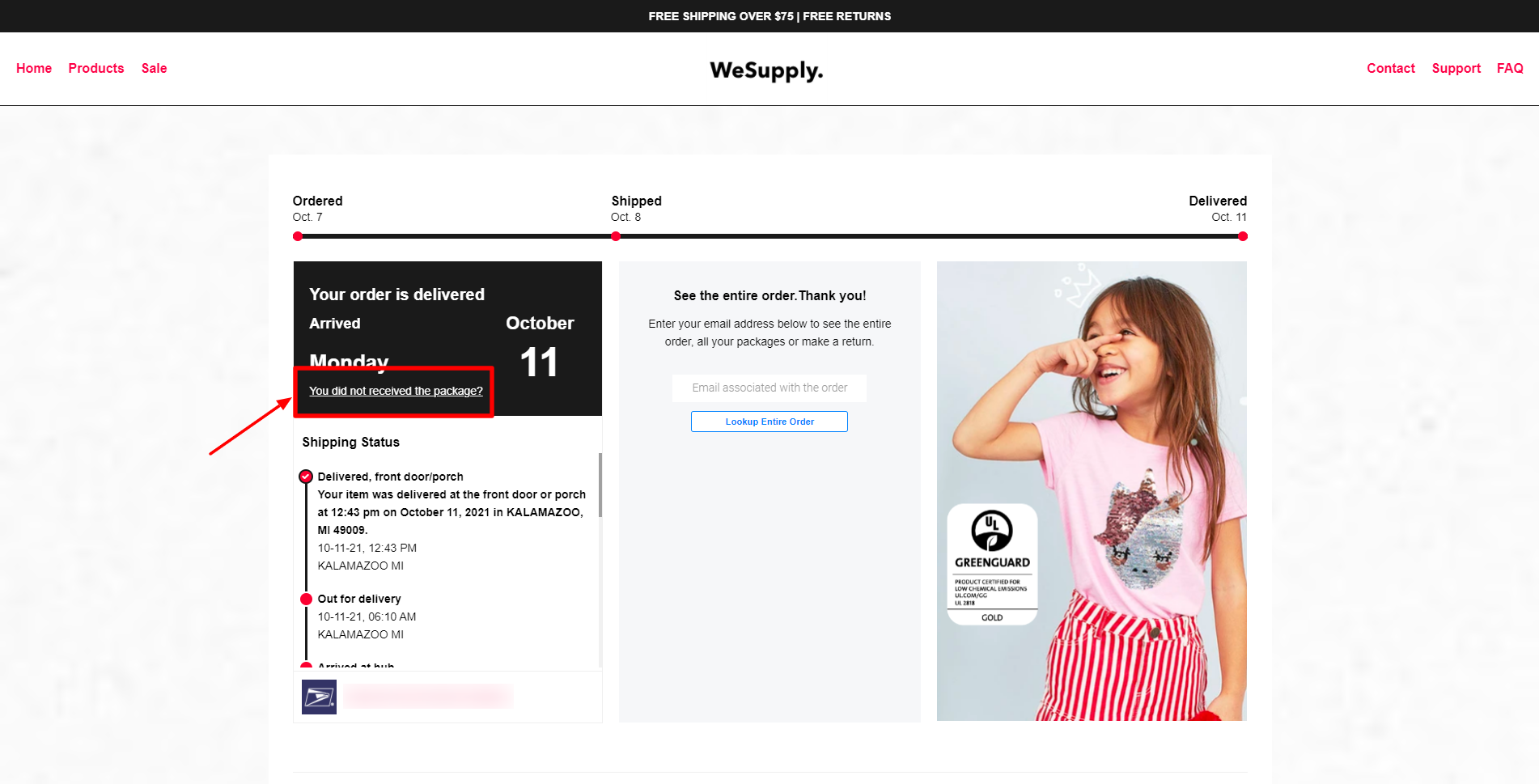 They just need to confirm that they want a representative from your company to contact them back to further investigate why the package didn't arrive. Once confirmed, a message will be received at the email address that was set previously as a receiver for such reports.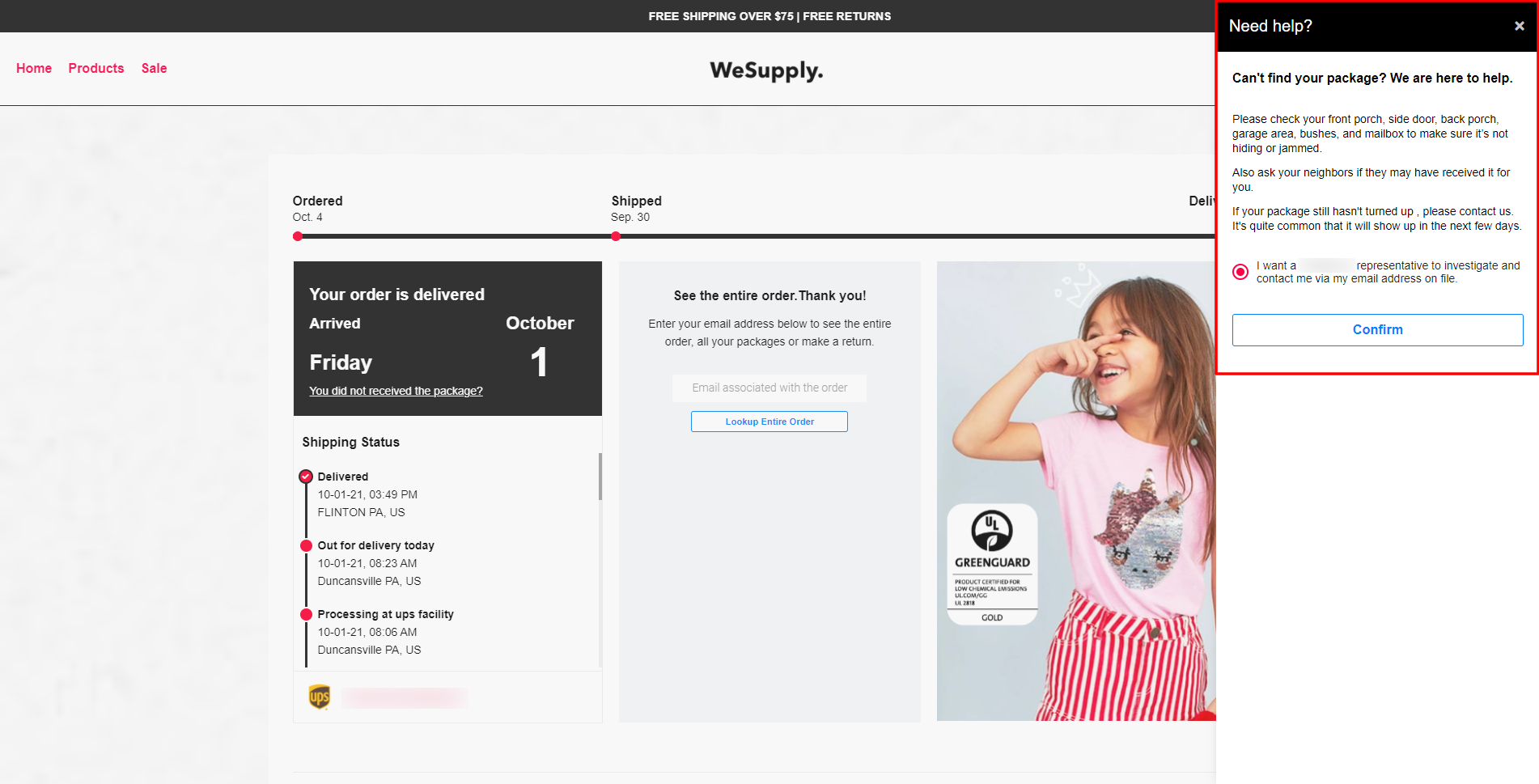 Your customer service team will be informed of the report with an email looking as seen below: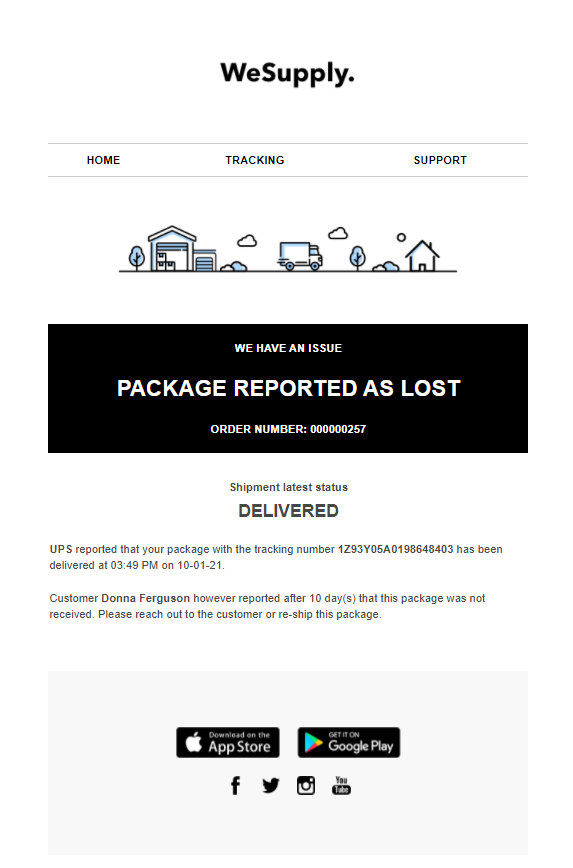 On the Orders Search view, under the Reported Lost tab, you can identify all packages that were reported as lost by customers.