As the Holidays approach and the online shopping will boost, we thought that the Specific Date Range functionality for the Return process can come in handy for your customers and your customer support team also. While offering your customers a self-service return process within just a few seconds, you can improve their post-purchase experience by offering them an extended return policy when periods with crazy sales are coming up.
Throughout the year your Default Return Window can be set up for a maximum of 30 days let's say, being the most common return policy these days. However, with the Specific Date Range feature, your customers can return products purchased let's say between Nov. 1st - Dec. 24th up until the mid of January or within 30 days, depending on which is longer.
If the return window is selected by 30 days, everything will stay the same and your customers can return their products within those 30 days. But if you choose to select a specific date for when the return policy ends, then the return window will no longer be an option. As such, if a product is purchased on December 1st, the specific date window will allow your customers to return that product until January 14th for example.
Step 1
Go to the WeSupply Login Page, log into your WeSupply account, and go to Settings -> Return Methods -> Return Logics and Policies -> Add a new Logic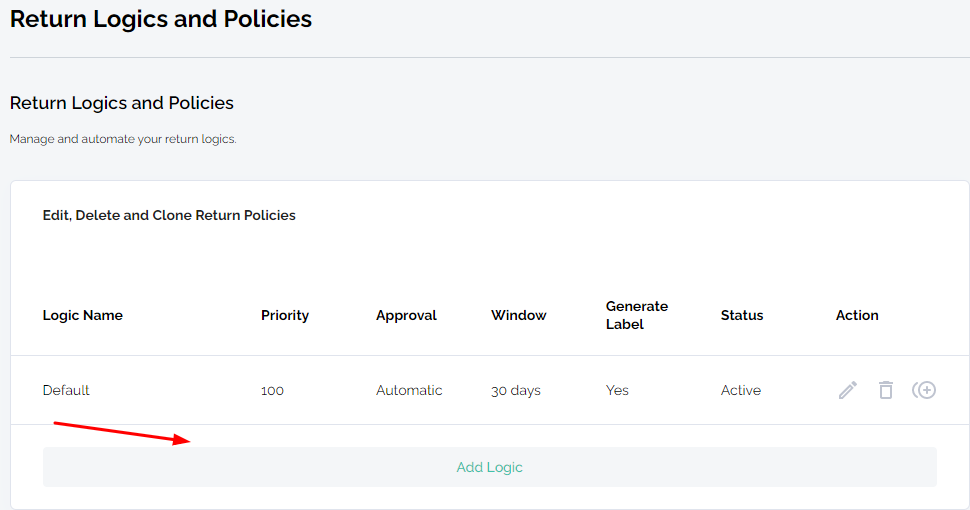 Step 2
Set up your Return as usual and on the Conditions section, -> select filter Date Range -> between -> the start and end date of the specific purchase date of the products -> click Add:

.
Step 3
Under the Refunds section, you'll be able to select whether you'd like to apply a Return Window for your return rule or a Specific Return Date.
If Return Until is selected as Return Window -> then you have to set up the Return Window of x number of days you'd like to be applied for your returns.

If Return Until is selected as a Specific Date -> then you have to add the Specific Date of your return rule (the end date). For example, if you'd like for the products purchased between Nov. 1st-Dec. 24th to be returned up until Jan. 14th, set up the specific date with the last date for which returns are allowed, in this case - Jan. 14th.

Step 4
Continue to set up your Return Logic and when you're done, make sure to Save your settings.