Question: Can I use a custom domain name that I purchased from a domain registrar?
(e.g., GoDaddy, Cloudflare, NameCheap, Google Domains)
Answer: Yes, you can use a custom domain name you already own and forward it to your WeSupply website.
Step 1
Go to Settings -> Branding -> Configuration -> scroll to the DNS Instructions section -> set up the CNAME following the instructions below:
If you only want to add a subdomain to a custom domain you already own and use for another website (orders.yourdomain.com), you just need to add a CNAME for the subdomain name pointing to: [youraccountname].labs.wesupply.xyz
(Substitute youraccountname with your own custom domain name.)
Every domain registrar is set up a little differently. Please contact your domain registrar support for questions directly related to managing the DNS settings on their website or contact us in WeSupply support if you have questions or need additional help.
Each domain registrar is a bit different, please refer to these articles to set up a CNAME for your domain:
How to setup a CNAME in GoDaddy
How to setup a CNAME in NameCheap
How to setup a CNAME in CloudFlare
Step 2
After you set up your CNAME in your DNS settings, please allow some time to propagate. This time may vary from 5 minutes to a few hours, depending on the system you're using.
You can use a free online tool to make sure that your CNAME is propagated and updated across the internet: https://dnschecker.org/
Once the CNAME is propagated, you can go ahead and set up your subdomain in the Enter Alias Domain section. Enter the Alias Domain and then click the Save button.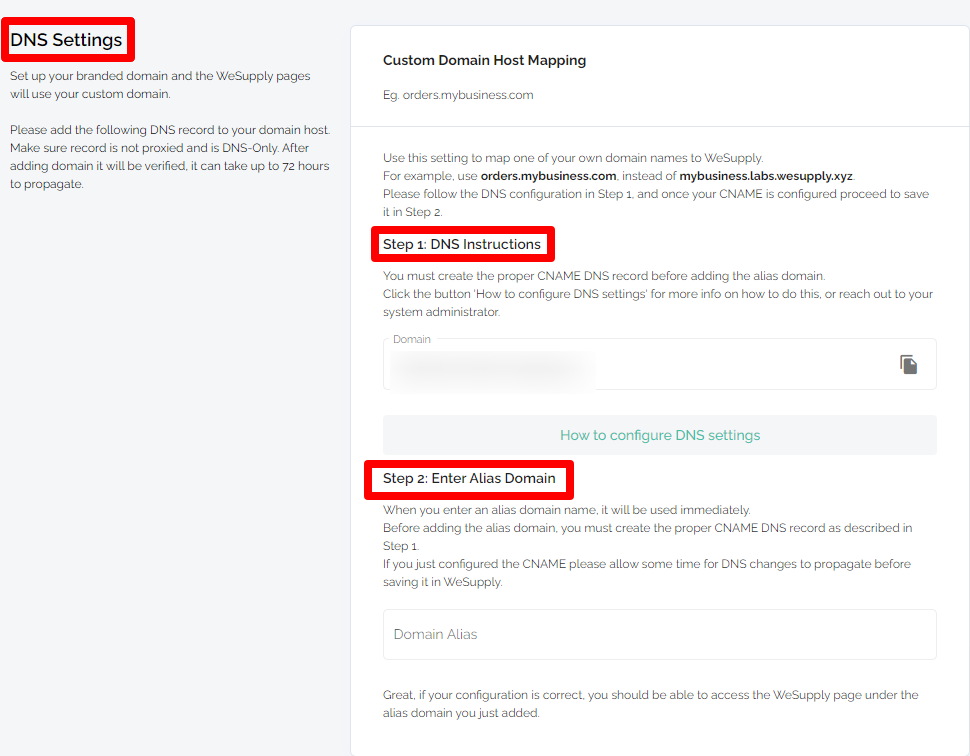 Step 3
We recommend waiting at least a few minutes for the SSL certificate to be generated, and then you can access the WeSupply page under the alias domain just added.
If you're on Shopify, there are a few extra steps you need to take in order to assure the Custom Domain works, and you can find those in this article: How To Setup A Custom Domain (CNAME/Domain Alias) In Shopify.