Managing returns in WeSupply is easy! Learn step-by-step how to deal with them! :)
Returns by Status
In WeSupply you can view all your returns by status:
- Requested = returns that need authorization from your Customer Success team
- Approved = returns that are either automatically or manually approved by your Customer Success team and now they need to be received
- Received = this status gives you a quick view of all the returns that your return location (warehouse) received but was not controlled yet
- Controlled = all returns that were successfully controlled but the calculation was done on the final refund amount
- Issue Refund = all returns that just need to be refunded
- Refunded = all returns that were successfully refunded
- Archived = all returns that were archived
- Escalated = all returns that were escalated
- Refund Failed = this status tells you if a refund has failed
Show/Hide Return Columns
You can simply select which column to show or hide in WeSupply by clicking over the "hamburger menu" on the right-hand side and toggle on/off each column.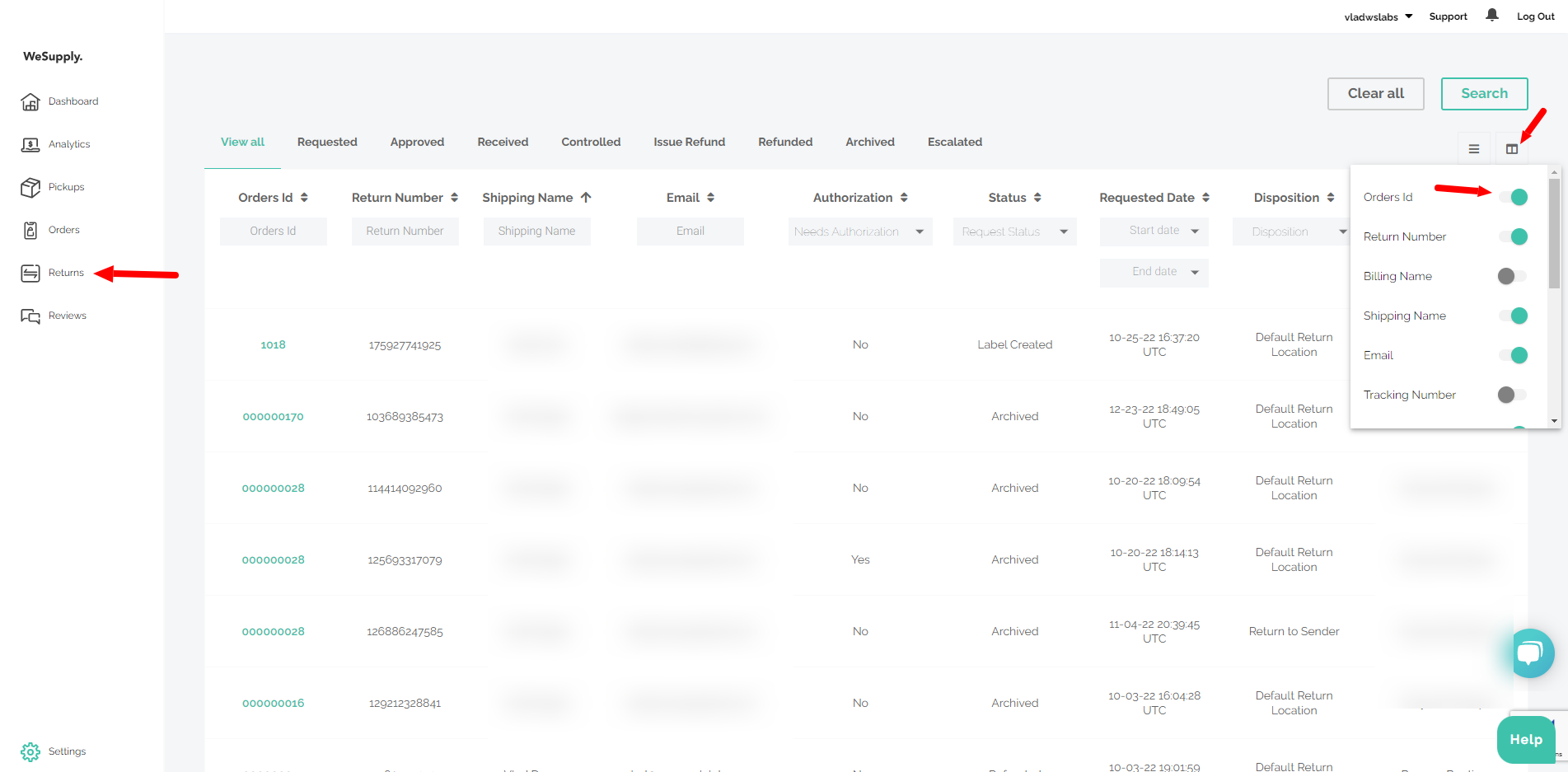 How to process returns
1. Simply go to the Returns section in your WeSupply account and click on the return you'd like to process.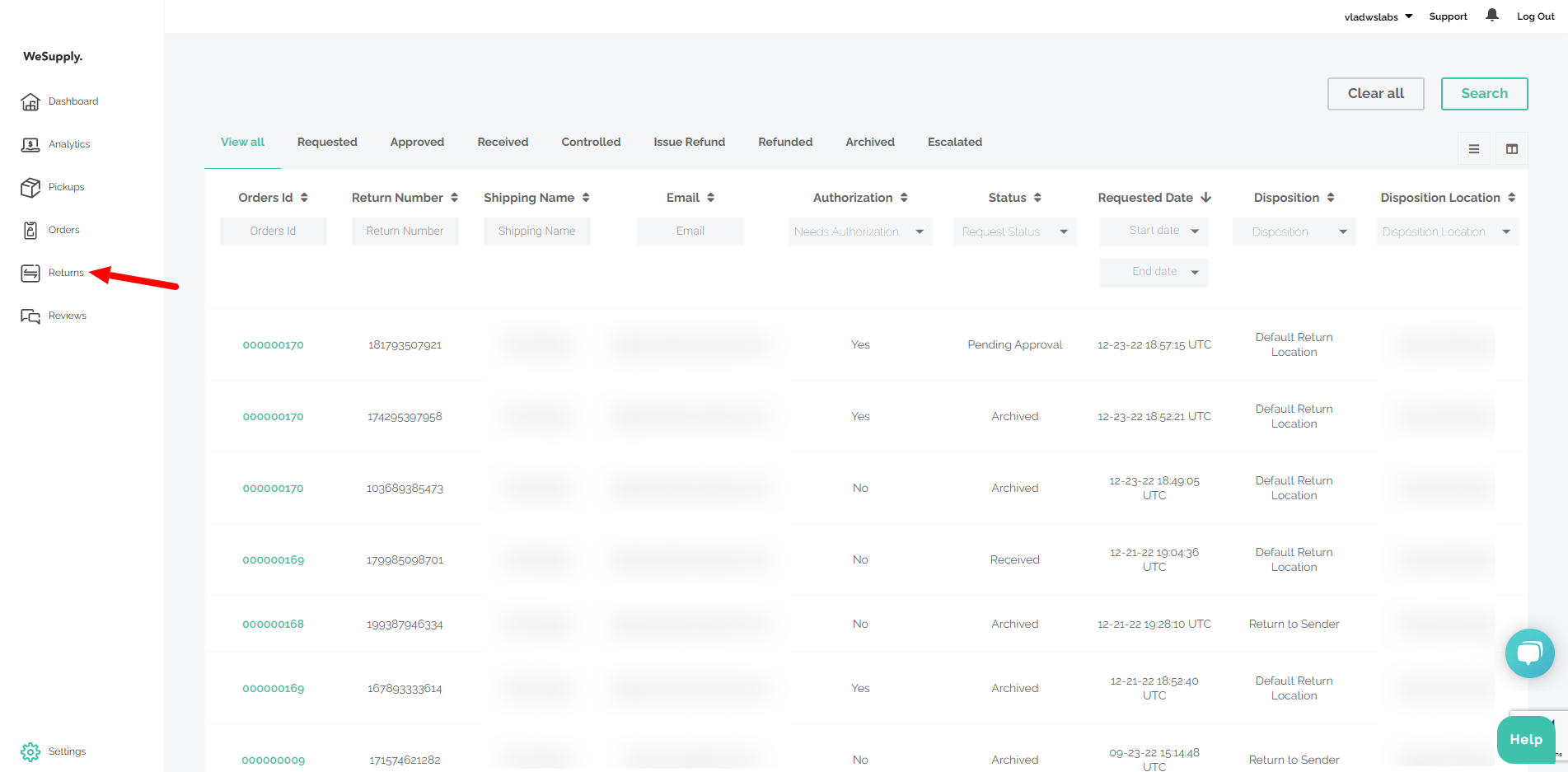 2. If the return requires Approval you have the option to Authorize or Reject it. You will also have the option to add a comment which will be sent to the customer.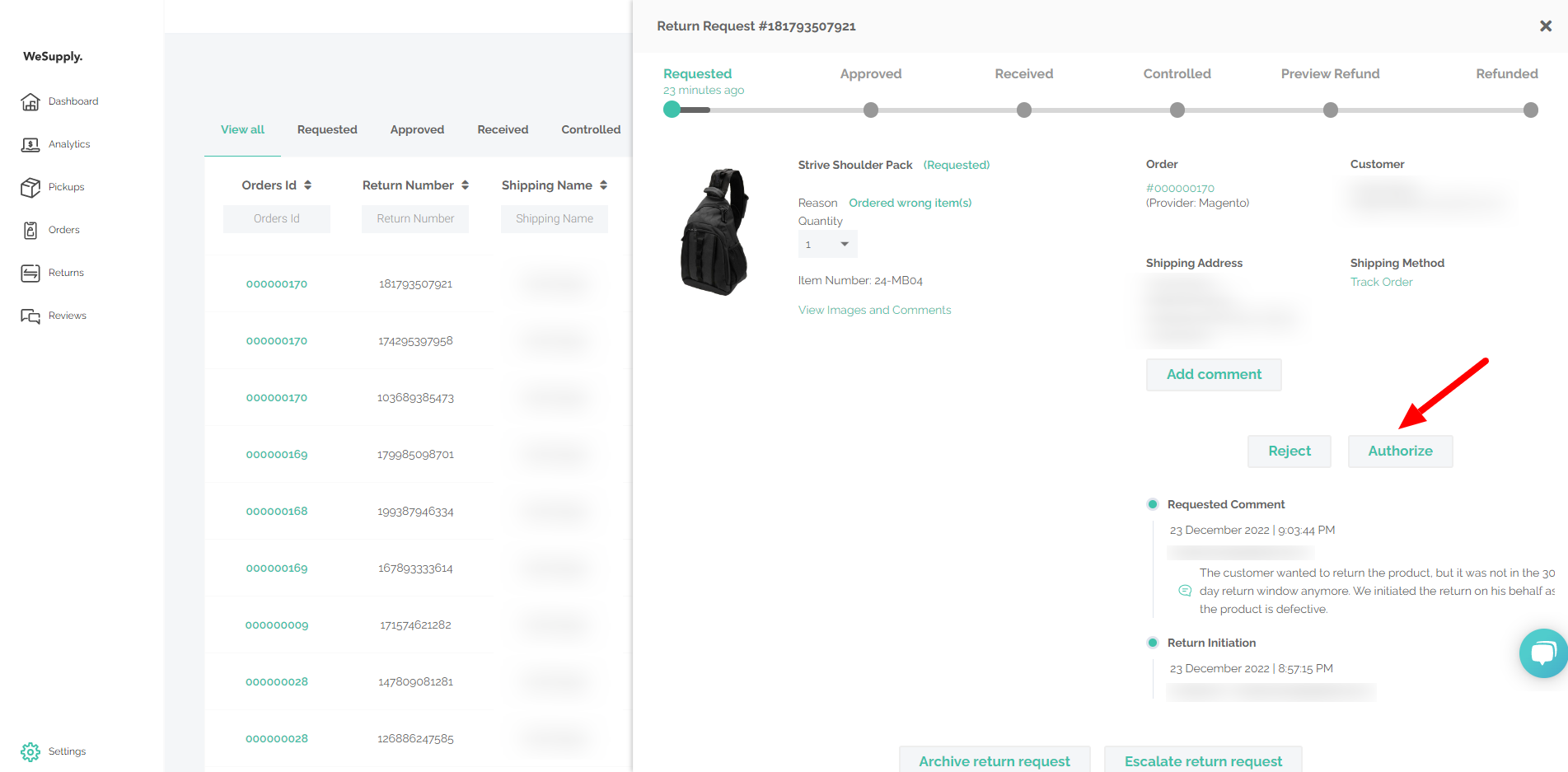 3. Confirm Package Reception - this step verifies if the product received in this return is the exact product that was supposed to be returned.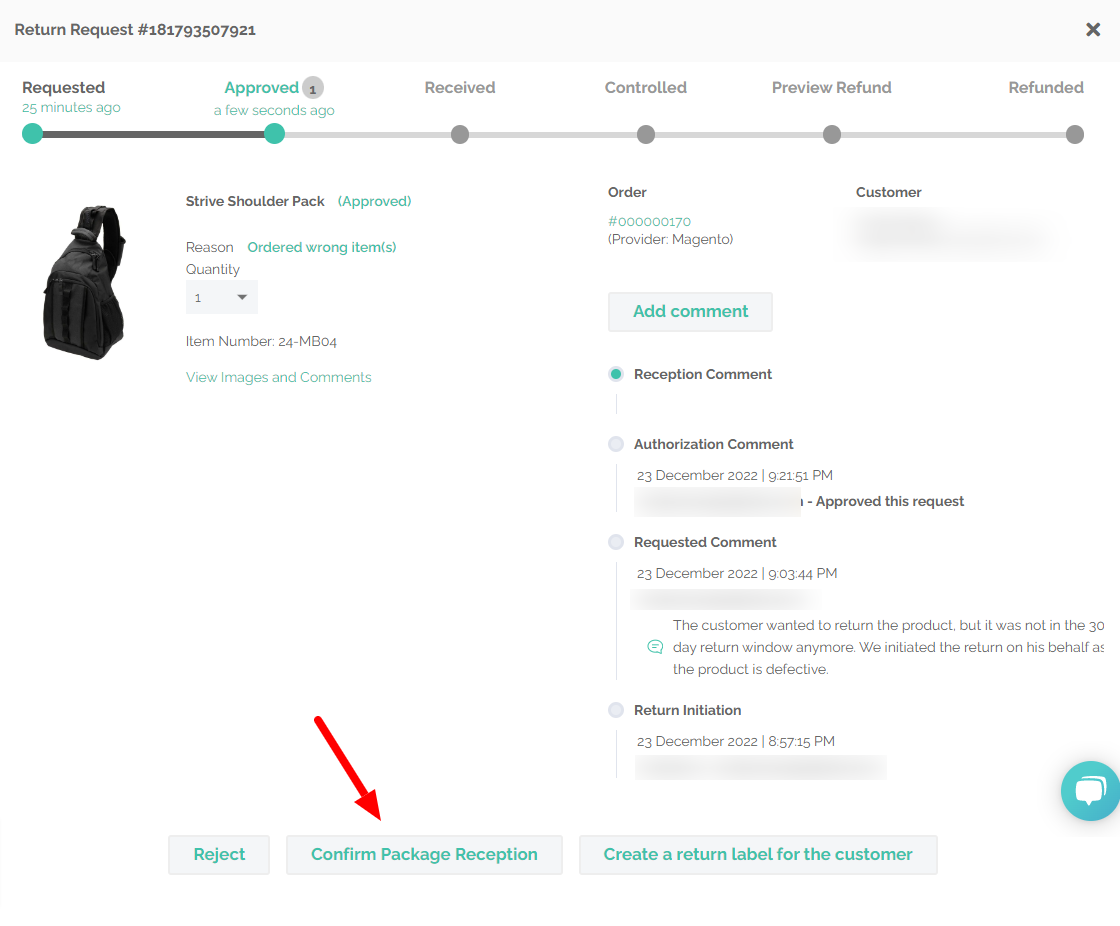 4. Add comments where needed - we make communication easy between each department by encouraging them to leave comments where needed, this will ultimately help to review the return and process the refund.
5. Return product quality control - during the return process you have the option to do quality control. All these options are fully customizable under Settings -> Return Methods -> Return Quality Control.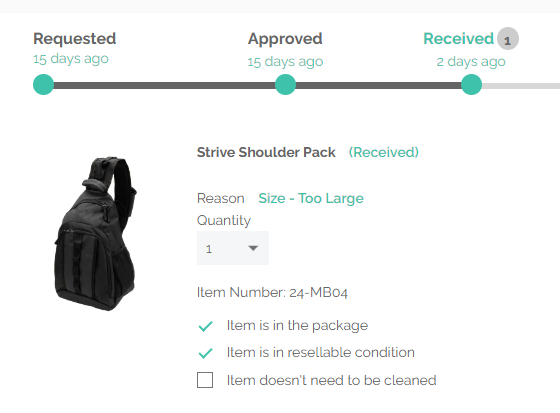 6. Return Refund - at this step of the process you have multiple options to decide how much and how are you looking to refund the customer.
- restock = Select Yes/No to restock the inventory upon completing this return
- refund shipping = Select Yes/No to refund the original shipping cost of the order
- refund fee = here you can input any value for your refund, this is often used if you have a refund fee or if you would like to deduct the cost of the return label
- add or remove refund methods = this option allows you to refund the customer in multiple ways, such as Store Credit, Gift Card, Original Method of Payment, or even Offline Payment.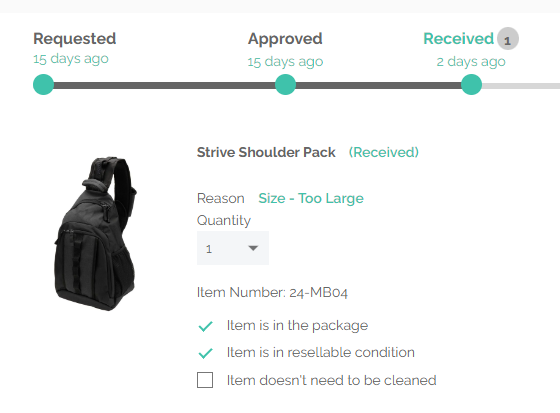 Cancelling/Archive Returns
This functionality will treat any return request as if it never existed. It is very helpful in case the customer generated a return request but later on wants to cancel it or place a new one.

As soon as a return is Archived, it will be listed in the return list under the Archived Section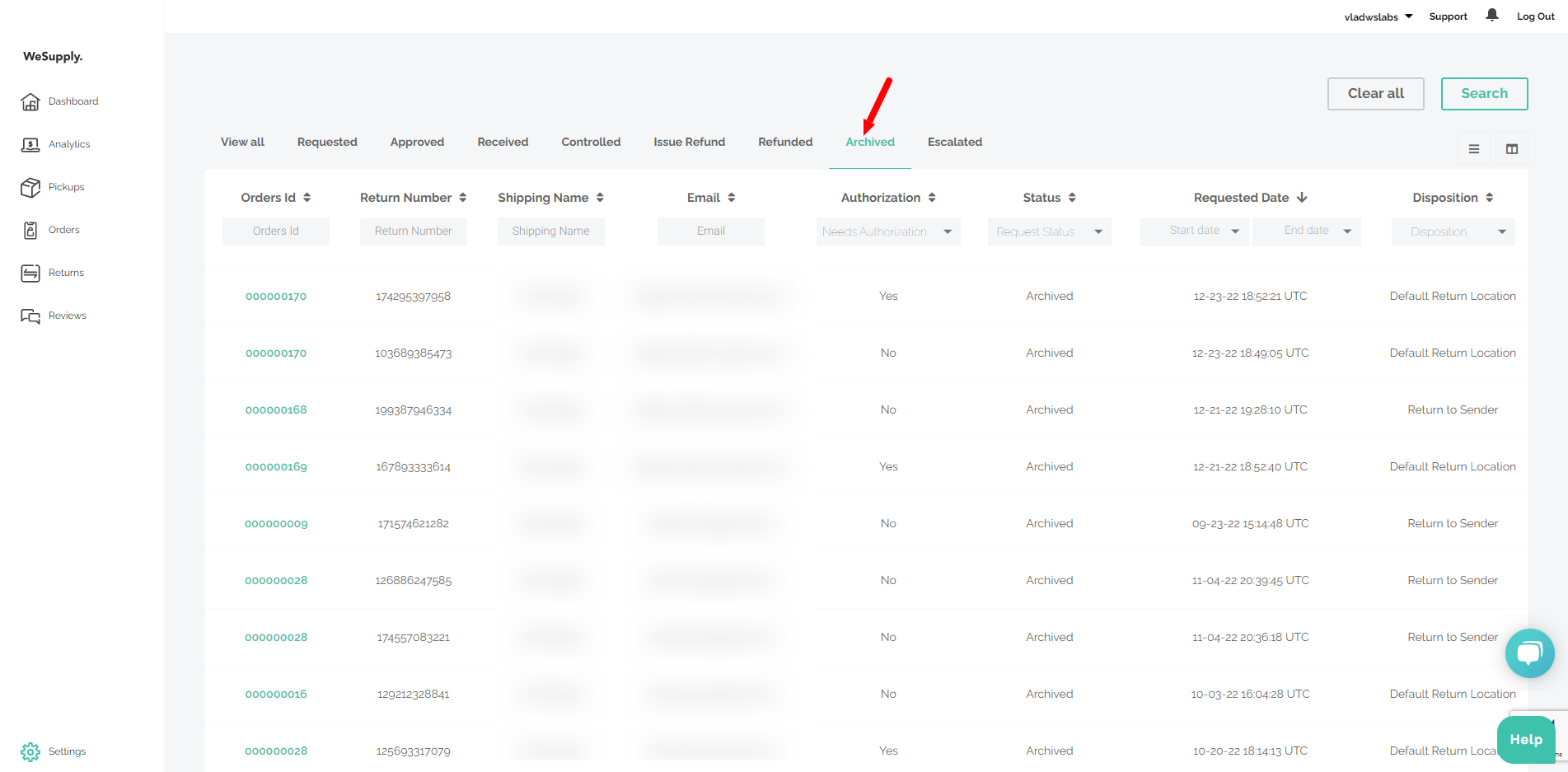 If for some reason you would like to recover this return request, simply click on the return and click the button "Restore Return Request".

Rejecting a Return
If at any point you decide that the return cannot be processed and it will be shipped back to the customer, simply click on the button "reject".

Generate a return for the customer
If a customer requests a return to be submitted on their behalf, simply search for the customer order, and open it in the Admin View.
You will see that a new button appeared, only available for Admins called "Create a return for the customer".
This action will allow the Admin to file a return on the behalf of the customer and the admin will be able to decide if a return label needs to be created.
Note: Only Delivered shipments can be returned.
Create a return label for the customer
If the initial return logic was set up to not generate a return label for the customer buys while reviewing the return request you decide otherwise, simply click the button "Create a return label for the customer". This action will automatically create a label and it will notify the customer right away.

View customer-submitted images and comments
If a customer sends images and comments regarding the returned product, such as damaged pictures, you can simply click on the "View Images and comments" button to check all images the customer sent.