Content
Overview
In order to ensure an efficient and organized order and return management process, it is important to carefully define the roles and permissions of each individual involved.
Without the right permissions and roles defined, it can be difficult to keep track of who is doing what in the returns process, which can lead to delays or even mistakes.
User Roles provides a streamlined way to manage orders and returns by granting permissions to specific team members or even vendors. This allows each individual/team to process returns according to their internal procedures, ensuring a smooth and efficient order management process.
How to add multiple users to your WeSupply account?
Invite your team into your WeSupply account and work together to drive customer happiness!
For a quick walkthrough, take a look at the video below.
Let's get started!
Step 1. To add or remove users, first log into your WeSupply account.
Step 2. Go to Settings -> User Management -> click on Add User: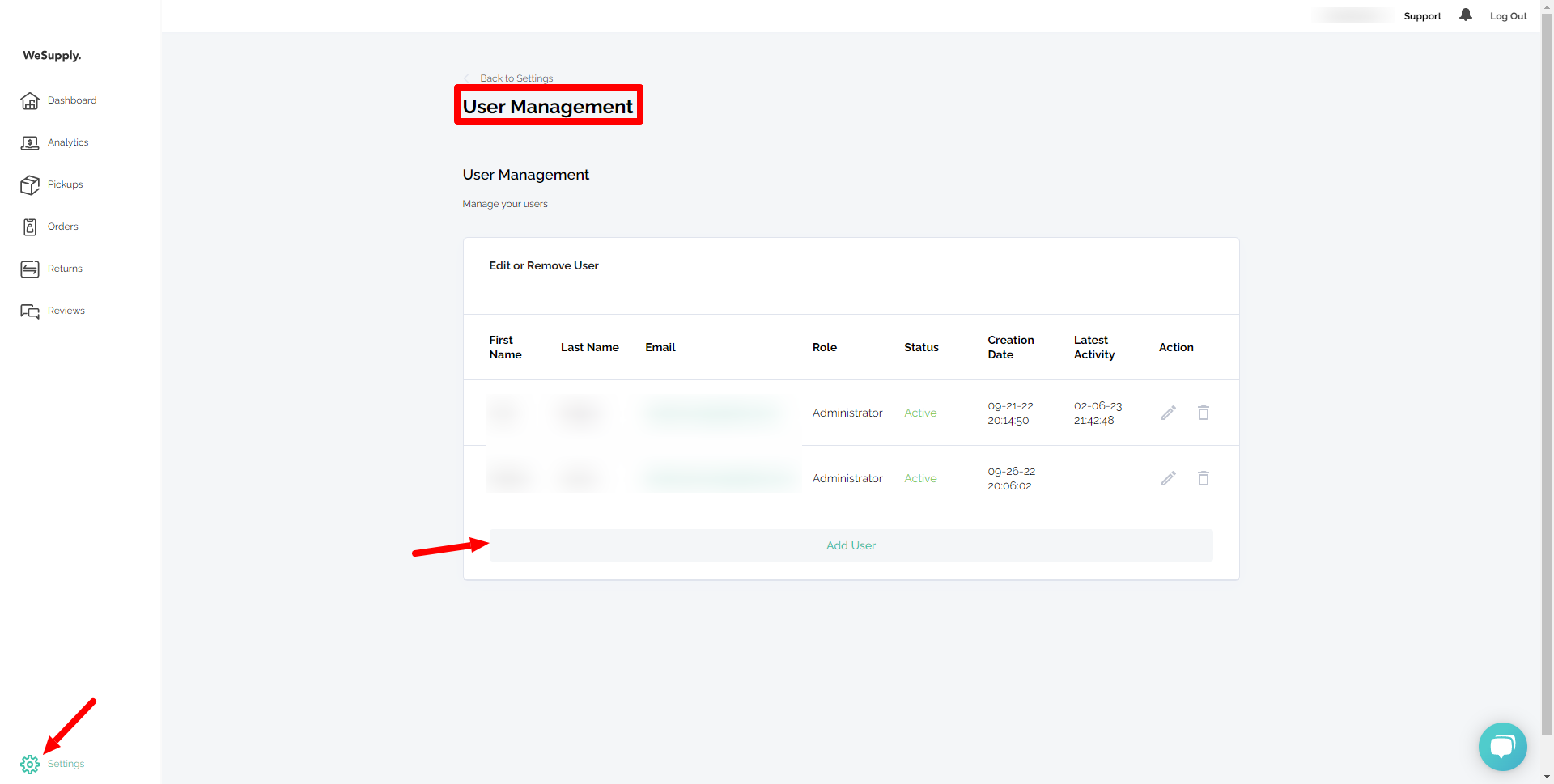 Step 3. In the User Info section, you'll be able to insert the required information about your team members, as seen below.
From the Status dropdown menu, make sure that the Active status is selected for the users to be able to access WeSupply.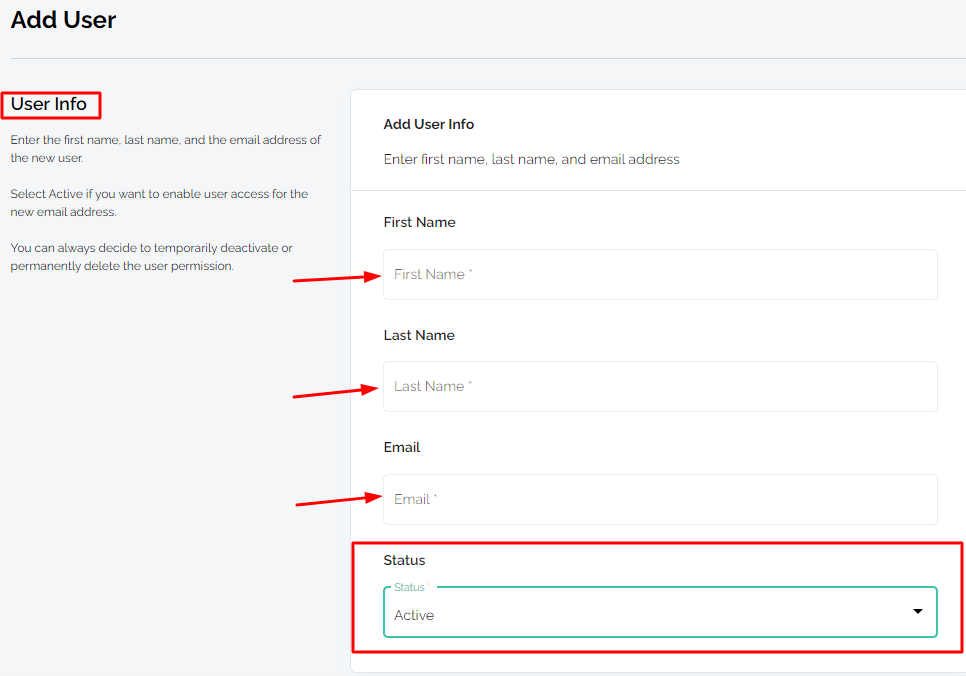 Step 4. Select the Role of the new member and when you're done, click on Save.
New users will receive an email with a direct link to login into WeSupply.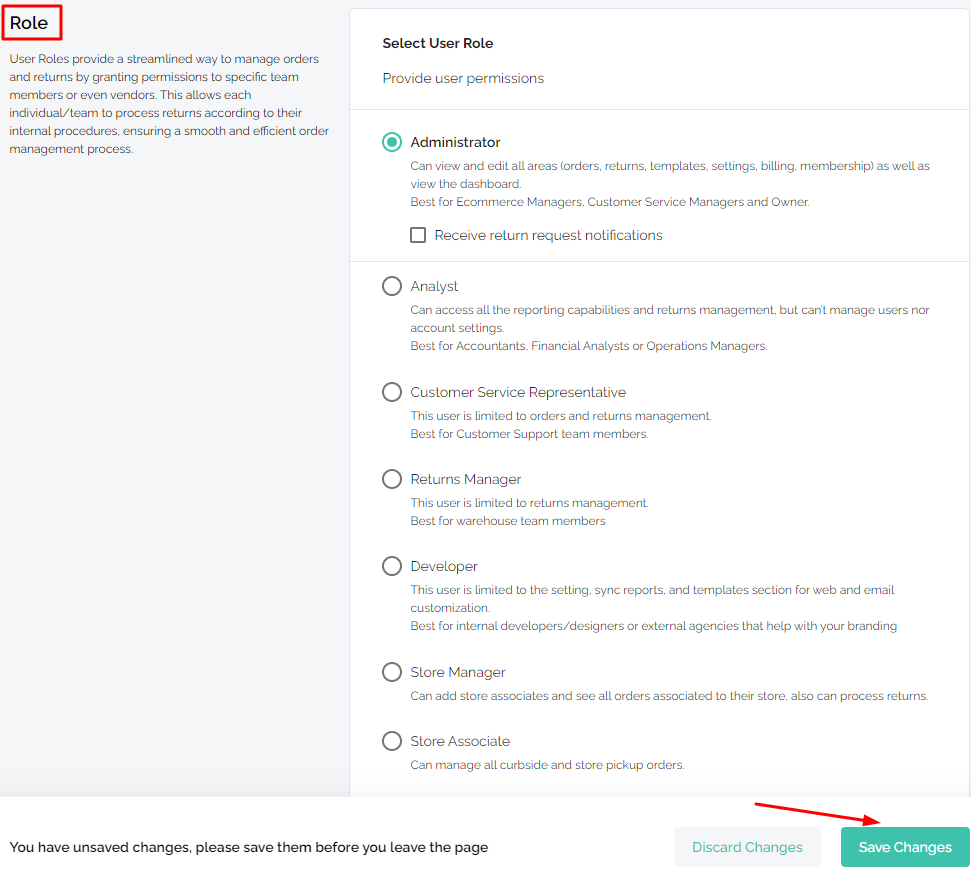 From the User Management main page, you can also click the Delete User button if you would like to remove any of the users that have access to your WeSupply account. Once deleted, the user won't be able to sign in to your WeSupply account anymore.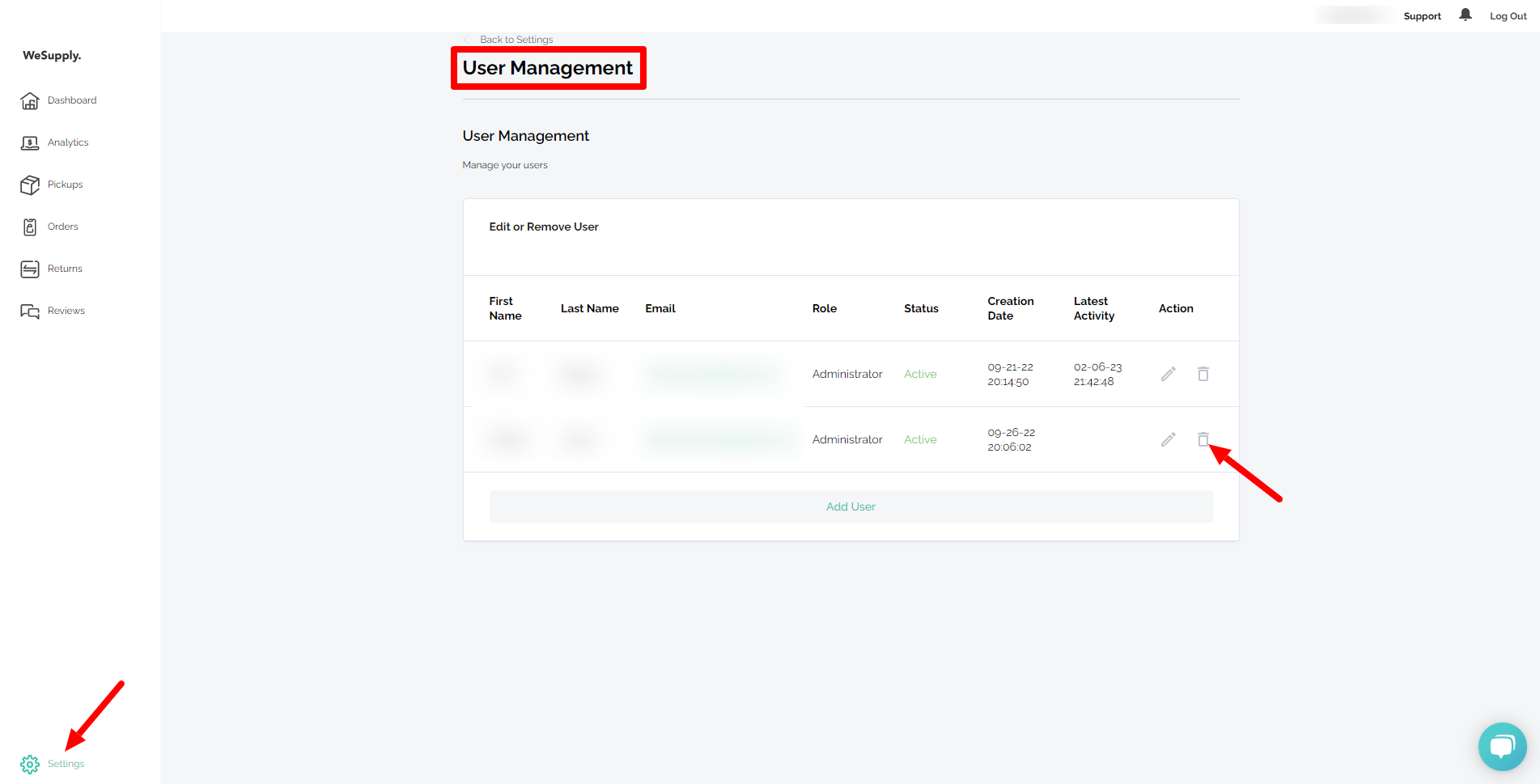 User Roles
In WeSupply you can choose between multiple user roles:
Administrator
Can view and edit all areas (orders, returns, templates, settings, billing, membership) as well as view the dashboard.
Best for E-commerce Managers, Customer Service Managers, and Owner
Analyst
Can access all the reporting capabilities and returns management but can't manage users or account settings.
Best for Accountants, Financial Analysts, or Operations Managers
Customer Service Representative
This user is limited to orders and returns management.
Best for Customer Support team members
Returns Manager
This user is limited to returns management.
Best for warehouse team members
Developer
This user is limited to the setting, sync reports, and templates section for web and email customization.
Best for internal developers/designers or external agencies that help with your branding
Can add store associates and see all orders associated with their store, also can process returns.
Best for Store Managers
Store Associate
Can see all orders for curbside and pickup.
Best for Store Associates
There are four user types that you can further fine-tune permission for: Customer Service Representative, Returns Manager, Store Manager, and Store Associate.
For the Customer Service Representative and Returns Manager, you can define which steps of the return process they have access to as usually the return process is managed by two teams (Warehouse, and Customer Service).
Those permissions can be controlled under the Returns Permissions tab below.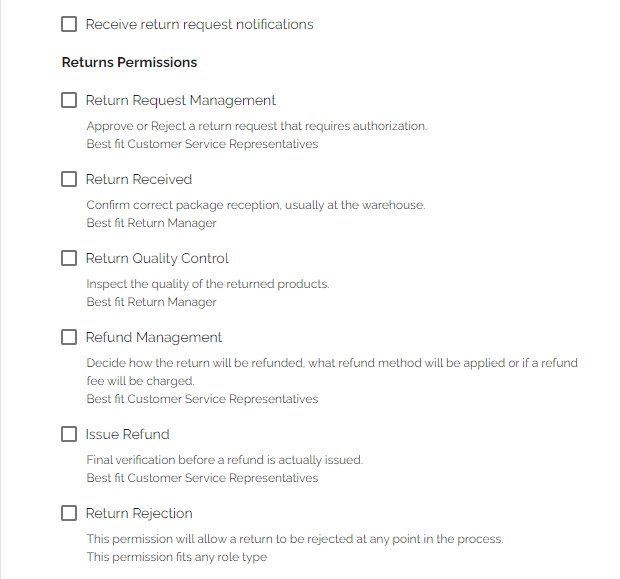 Additionally, you can also specify which return locations will be visible to the Returns Manager such that they can process returns. Returns can be seen and processed for a single return location, several return locations, or all return sites. Such permissions can be controlled by using the Disposition and Disposition Location dropdowns.

For the Store Manager and Store Associate, you can define which store they have access to by using the Store dropdown selector.
How To Set Up Store Managers and Store Associates in WeSupply? (In-Store Pickup Order Management)