A. How to enable the Collection Management functionality?

Step 1
To start, you need to log in to your WeSupply account using your credentials.
Step 2
Once you're logged in, look for the "Settings" option in the main menu. This is typically located at the top right corner of your dashboard.
Step 3
In the Settings menu, find and click on the "Return Methods" option. This will take you to a new page where you can manage the different methods of returns.
Step 4
On the Return Methods page, look for the "Shop Collection Management" option. Click on it to proceed to the next step.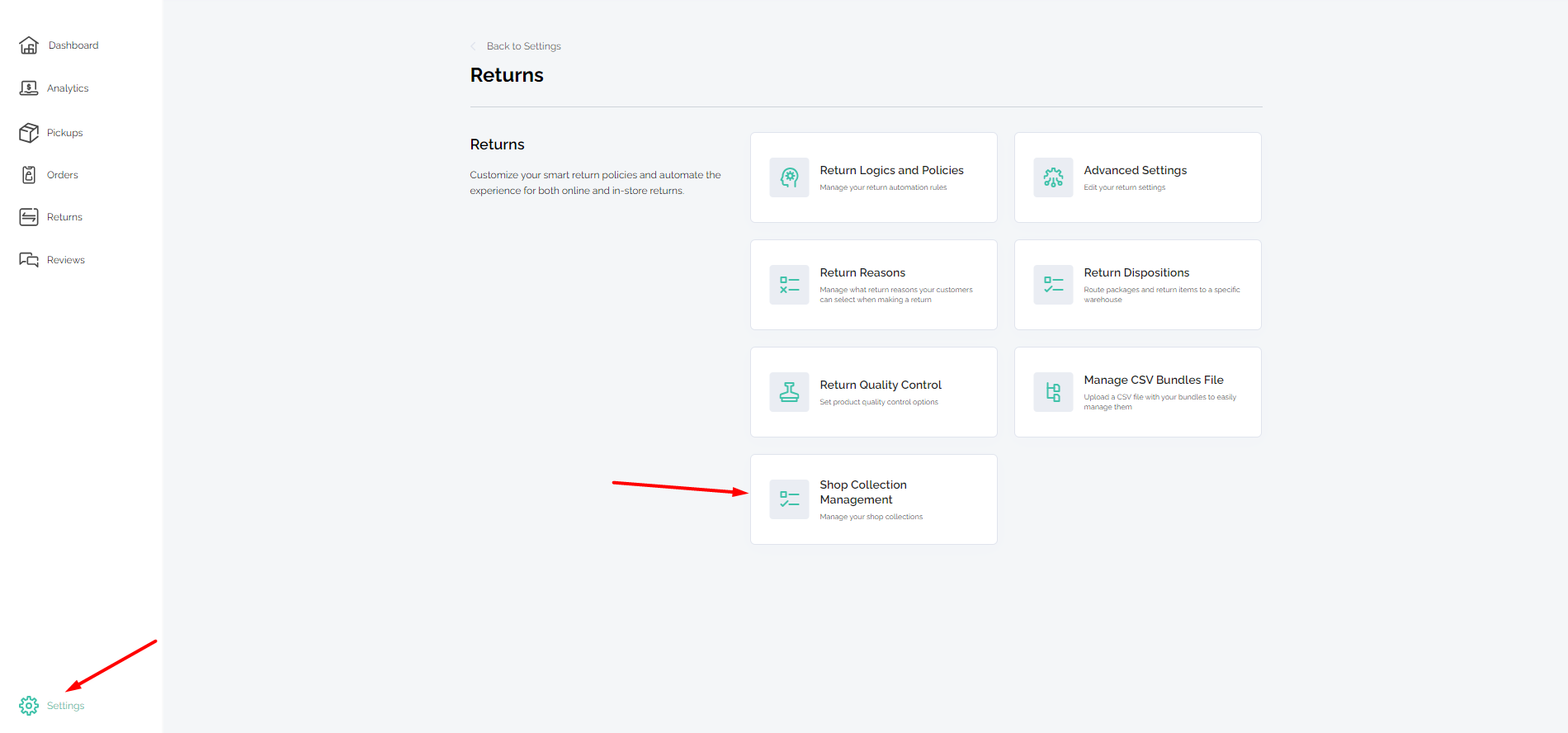 Step 5
On the Shop Collection Management page, you will see a "Load" button. Click on this button to import all the existing collections from your Shopify store to your WeSupply account.


Step 6
After the collections have been imported, you can choose which ones to enable or disable. You can do this by toggling the "Enabled" button on or off for each collection.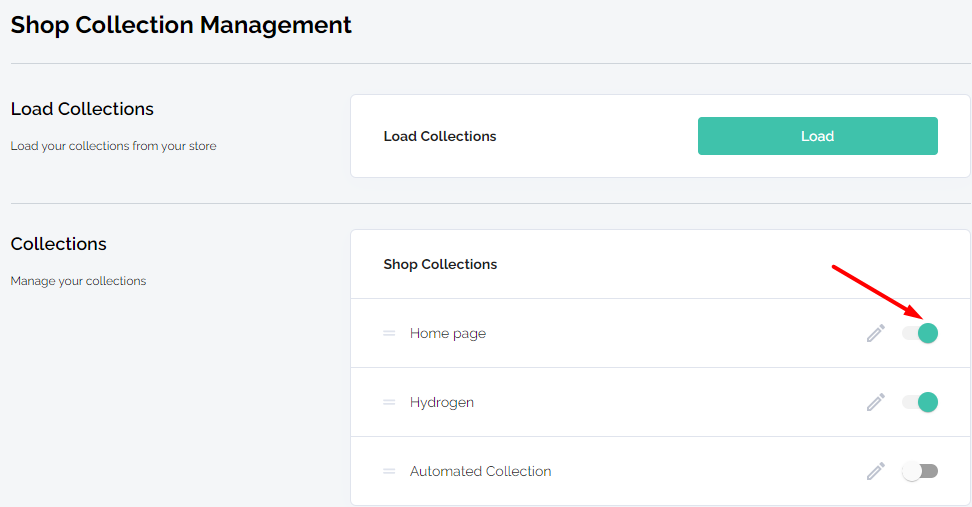 With the collection management functionality, you can allow exchanges for items in the same collection. You can also select the collections from where your customers can choose the exchanged product.
B. How to set up exchanges for items in specific collections?
Step 1
Head to Settings -> Return Methods -> Return Logics and Policies -> Add a new return logic/edit an existing one.
Step 2
After clicking on the 'Edit' button, you will be directed to a new page where you can modify the return logic. Scroll down until you find the 'Exchanges' section.
Step 3
If exchanges are allowed for any product, you will see an 'Add condition' button. Click on this button to add a new condition for exchanges.

Step 4
A dropdown menu will appear once you click on the 'Add condition' button. From the dropdown menu, select the 'Collection' option.
Step 5
After selecting 'Collection' as the condition, another dropdown menu will appear. This menu will list all the collections you have enabled. Select the collections from which you want your customers to be able to exchange items. Once you`ve selected the collections, click on Add Condition to save the configuration.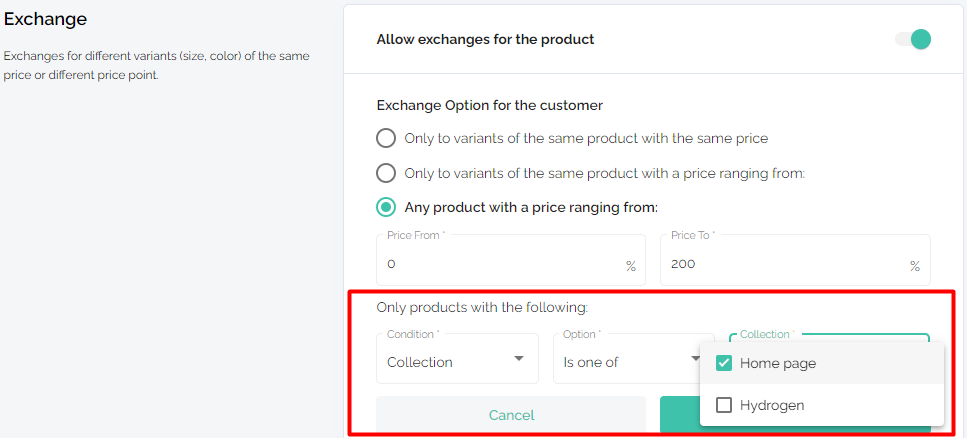 Please note: Only the collections that are enabled will appear in the dropdown menu.

C. How to Exclude Certain Items from Being Displayed as Available for Exchanges?
Step 1
The first step is to log into your Shopify admin account. Once you are in, navigate to 'Products' and then click on 'Collections'.
Step 2
Under the 'Collections' section, you will find a 'Conditions' tab. This feature allows you to create conditions to exclude certain products from that collection. You can set up filters based on Product Title, Product Type, Product Tags, and more. For instance, if you want to exclude all items that are tagged as 'sale', you can set up a condition for that. Once you have set the conditions as per your requirements, don't forget to save your new collection configuration.
Step 3
After setting up the conditions in your Shopify admin, you need to integrate these changes with the WeSupply platform. To do this, head over to WeSupply. Under the 'Settings' option, you will find 'Return Methods'. Click on this and then navigate to 'Shop Collection Management'.
Step 4
The final step is to load the collections that you have configured in your Shopify admin into WeSupply. To do this, click on 'Load Collections'. This will ensure that the conditions you set in Shopify are reflected on the WeSupply platform.
Step 5
Follow the steps showcased in section B of this article to configure your return policies to allow exchanges for items in specific collections.


And that's it! You have successfully configured your return policies to allow exchanges for items in specific collections. Remember to save your changes before exiting the page. If you have any further questions or need additional assistance, don't hesitate to contact our customer support team.