WeSupply Labs platform offers you the ability to add an external Return Merchandise Authorization (RMA) number to your returns. This feature allows you to set a custom return number and find returns based on it. Here is a step-by-step guide on how to do it:
Step 1: Navigate to the Returns Tab
Once you're logged in, navigate to the 'Returns' tab on the main dashboard. This is where you'll find a list of all the returns.
Step 2: Select the Return
From the list of returns, select the return for which you wish to add an external RMA number.
Step 3: More Actions Dropdown
Click on the 'More Actions' dropdown menu. This will open a list of additional actions you can take.
Step 4: Set an External RMA Number
Click on 'Set an External RMA Number'. This will open a field where you can input your custom return number. This field can be edited anytime according to your needs.

Step 5: Save Changes
Once you've entered the external RMA number, click on the 'Save' button to apply the changes.
Step 6: Add the Custom Return Number Column
In the 'Returns' tab, you can add a column displaying the Custom Return Number. This will allow you to find returns based on it.

And that's it! You have successfully added an external RMA number to a return in WeSupply. This feature will make managing and tracking returns much easier.
Searching Returns Using Custom RMA Numbers
To search among your returns using the custom RMA number on WeSupply, follow these simple steps:
1. Navigate to the returns section of the platform. This is where you can view all the returns made by your customers.
2. Click on the 'More Filters' button located usually at the top right corner of the returns section. This will open a dropdown menu with various filter options.
3. From the dropdown menu, select the 'Custom Return Number' filter. Input the custom RMA number of the return you are searching for in the provided field and hit 'Enter'. The platform will then display the return associated with the inputted custom RMA number.
Displaying Custom RMA Numbers in Customer Notifications
To enhance communication with your customers, you can display the custom RMA number in the notifications sent to your customers. To do this, you will need to add the [*return_custom_reference*] variable to your email templates. Here is how:
1. Navigate to Branding -> Notifications.
2. Select the email template you wish to modify. This could be the return confirmation email, return status update email, or any other email that you send to your customers regarding returns.
3. In the email template, add the [*return_custom_reference*] variable in the desired location. This is where the custom RMA number will be displayed in the email.
4. Save the changes to the email template.

Examples of where is the custom RMA number displayed:

1. In the WeSupply admin



2. On the Frontend



3. On the Return Labels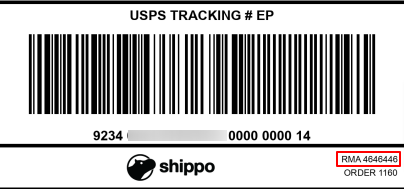 4. In the email notifications