If you've noticed that a BigCommerce order is missing from your WeSupply dashboard, or the tracking information has not been sent to WeSupply, don't worry. You can trigger an update for that specific order from your BigCommerce admin. This article will guide you through the process step-by-step.
Step 1: Log in to your BigCommerce Admin Account
Start by logging into your BigCommerce admin account.
Step 2: Locate the Missing Order
Once you're logged in, navigate to the "Orders" section. Here, you'll find a list of all orders placed through your BigCommerce store. Search and locate the order that is missing on your WeSupply dashboard.
Step 3: Open the Order Details
Click on the order number or the customer's name to open the order details page.
Step 4: Add an Internal Note
On the order details page, click on the "View Notes" section.



Step 5: Write and Save the Note
In the "Staff" Notes field, write a simple note like "Updating order for WeSupply sync." Remember, this note will not be visible to your customers, it's only for internal purposes. After writing the note, click on the "Save" button.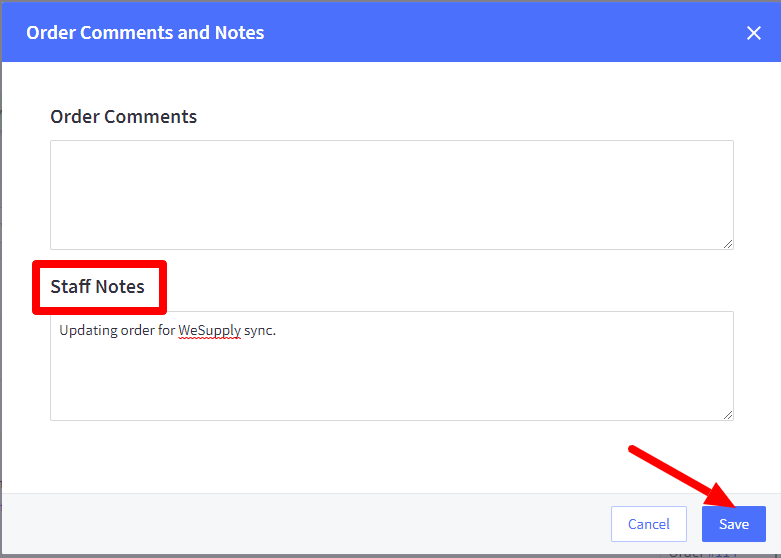 Step 6: Wait for the Order to Sync
After saving the note, the system will automatically trigger an update to WeSupply. This may take a few minutes, so be patient.
Step 7: Check the WeSupply Orders Dashboard
Log in to your WeSupply Orders dashboard and check if the order is now visible. If the order is still not visible, give it a few more minutes and refresh the page.

By adding an internal note to your order in BigCommerce, you can trigger an update and sync the order to your WeSupply dashboard. This is a simple and effective way to ensure all your orders are correctly synced and tracked in WeSupply.
If you continue to experience issues with order syncing, it's always a good idea to reach out to WeSupply customer support for further assistance.